Fluke IR3000FC FC Connector
Fluke IR3000FC FC Connector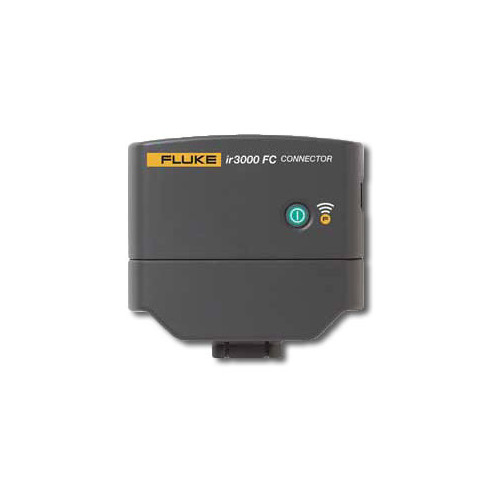 Manufacturer:

Fluke

Condition:

New

Family Models:

FLUKE IR3000FC

Manufacturer Part #:

IR3000FC

Meta Description:

Connect your Fluke test tool with the IR3000 connectors and get all the benefits of the Fluke Connect app.

TestEquity Part #:

22687.1
Product Features

Diagnose and solve problems easier with the Fluke Connect App and existing Fluke tools
The Fluke Connect ir3000 FC Connector allows you to wirelessly transfer data from some existing Fluke tools (see list) to your smartphone
Fits over the IR port of your existing Fluke tools
Upgradeable by USB
Immediately enables you to graph, save, and share the tool's readings with your team from your smartphone
Supported Fluke tools:
Digital Multimeter: 189, 287, 289
Process Tool: 789 ProcessMeter™
Insulation Tester: 1550, 1555 (Coming soon)
Supported smartphones:
Android™ 4.3 & up
Phone® 4s & later
Built with Connect your Fluke test tool with the IR3000 FC connector and get all the benefits of the Fluke Connect mobile app.
Fluke Connect with ShareLive™ video call is the only wireless measurement system that lets you stay in contact with your entire team without leaving the field. The Fluke Connect™ mobile app is available for Android™ and iOS smart phones and works with over 20 different Fluke products.
The Fluke Connect IR3000 FC Connector extends wireless communication abilities to Fluke's:
189 and 289 Digital Multimeters
789 Process Tool
1550 and 1555 Insulation Testers
Fluke Connect Wireless System Get info
Make the best decisions faster by viewing all temperature, mechanical, electrical and vibration measurements for each equipment asset in one place. Get started by downloading the Fluke Connect smartphone app today. Download .