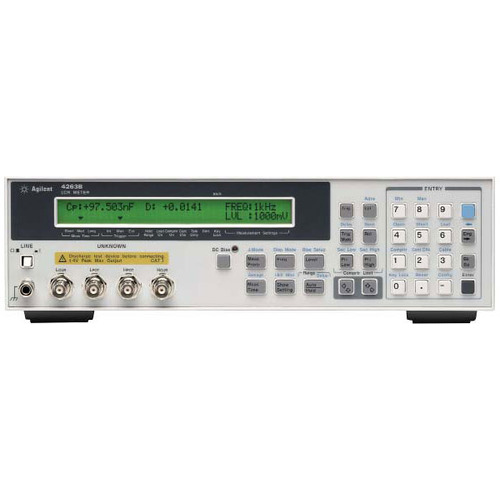 Manufacturer:

Keysight

Condition:

Used

Discontinued:

Yes

Manufacturer Part #:

4263B

Meta Description:

Shop here for the Keysight 4263B LCR Meter plus the other tools & supplies. With unmatched product selections, TestEquity offers everything you need to get the job done.

Quote Required:

Yes

TestEquity Part #:

13291.3
Product Features
0.1% basic accuracy 100 Hz, 120 Hz, 1 kHz, 10 kHz, 20 kHz, 100 kHz test frequencies 20 mVrms to 1 Vrms in 5 mV steps Test signal level monitor function High-speed measurement: 25 ms High-speed contact check Wide capacitance test range Measures 11 impedance parameters Transformer turns-ratio, mutual inductance and dc-resistance measurements with opt. 001 GPIB and handler interfacesThe Keysight 4263B LCR meter is Keysight's most cost-effective LCR meter, designed for both component evaluation on the production line and fundamental impedance testing for benchtop applications. The Keysight 4263B has six test frequencies that allow you to simulate testing under the correct conditions: 100 Hz, 120 Hz, 1 kHz, 10 kHz, 20 kHz, and 100 kHz. Test fixtures and cables are NOT included. See the Configuration Guide to choose the correct test fixture or cables.
Manufacturer
Model
Description
Keysight
16089A
Large Kelvin Clip Leads
Keysight
16034E
SMD Test Fixture
Keysight
16047A
Test Fixture (Axial and Radial)
Keysight
16060A
Transformer Test Fixture
Keysight
16065A
External Bias Fixture
Keysight
16065C
External Bias Adapter
Keysight
16048A
Test Leads BNC Connector to BNC Connector Board
Keysight
16048D
BNC Test Cable, 2M
Keysight
16048E
Test Leads
Keysight
16334A
Tweezer Test Fixture
Keysight
16089B
Medium Kelvin Clip Leads
Keysight
16089C
Kelvin IC Clip Leads
Keysight
16089D
Alligator Clip Leads 4 Individual Clips


Discontinued.

Keysight
16044A
SMD Kelvin Contact Test Fixture

Discontinued.

Keysight
1CM019A
Rackmount Flange Kit (5063-9241) 88.1mm H (2U) - one bracket, one quarter-module bracket. Direct replacement for 5063-9241. Includes 1 rack flange a one quarter-module width extension adapter flange and screws.
Keysight
1CN006A
Handle Kit (5063-9226) 88.1mm H (2U) - two front handles. Direct replacement for 5063-9226. Includes 2 handles, 2 trim strips, metric fasteners.