Keysight U2351A USB Modular Multifunction Data Acquisition Device
Keysight U2351A USB Modular Multifunction Data Acquisition Device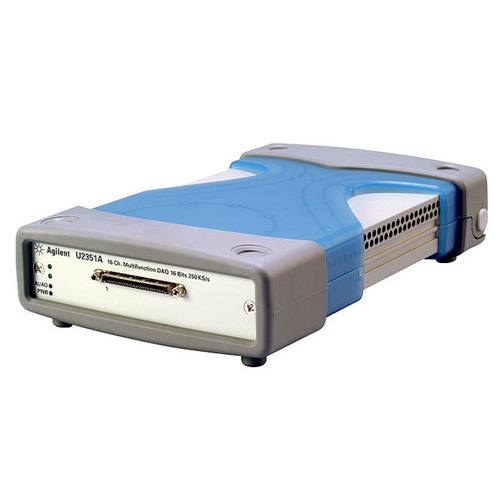 Manufacturer:

Keysight

Condition:

New

Manufacturer Part #:

U2351A

Meta Description:

Find the product you need with our Keysight U2351A Basic Multifunction DAQ. We proudly offer best-in-class customer service and will help you find the solutions you need for your business.

TestEquity Part #:

16260.1
Product Features
Up to 3 MSa/s sampling rate for a single channel
Functions as a standalone or modular unit
Easy to use – plug-and-play and hot-swappable with Hi-Speed USB 2.0
Up to 384 channels when incorporated into U2781A modular instrument chassis
Easy-to-use bundled software for quick setup and data logging to PC
12-bit or 16-bit A/D resolution
24-bit programmable digital input/output
Self-calibration capability
Compatible with a wide range of Application Development Environments
USBTMC 488.2 standards
The new U2300A Series USB data acquisition family consists of 7 modules - ideal for design validation and manufacturing engineers who conduct data logging, measurement or monitoring in a broad range of industries. All modules use the common non-proprietary standard high-speed USB 2.0 interface that provides ease of connectivity and comes bundled with the Keysight Modular Instruments Measurement Manager software. The U2300A series can function as a standalone or modular device that plugs into the U2700A series chassis. These are also compatible with a wide range of application development environments such as Keysight VEE Pro, NI LabVIEW and Microsoft® Visual Studio®. Get Keysight's quality products at a low price.
| | | |
| --- | --- | --- |
| The U2300A series DAQ is equipped with 68–pin Very High Density Cable Interconnect (VHDCI) type connectors. These connector pins are used for digital input/output, analog input/output, counters and other external reference/trigger signals. The optional U2901A and U2902A Terminal Board with SCSI-II 68pin Connector and Cable provides a convenient method of making connections to the U2300A. (1 recommended for U2351A, U2352A, U2353A, U2354A; 2 recommended for U2355A, U2356A, U2331A) | | |
Analog Input
Analog Output
Model
Description
Resolution
kSa/s
Channels
Resolution
KSa/s

Channels

U2351A
Basic multifunction
16 bits
250
16SE/8DI
16 bits
1000
2
U2352A
Basic multifunction
16 bits
250
16SE/8DI
--
--
--
U2353A
Basic multifunction
16 bits
500
16SE/8DI
16 bits
1000
2
U2354A
Basic multifunction
16 bits
500
16SE/8DI
--
--
--
U2355A
High-density multifunction
16 bits
250
64SE/32DI
16 bits
1000
2
U2356A
High-density multifunction
16 bits
500
64SE/32DI
16 bits
1000
2
U2331A
High-density multifunction
12 bits
3000*
64SE/32DI
16 bits
1000
2
* 3000 kSa/s single channel, 1000 kSa/s multiple channels.
Keysight U2300A USB Data Acquisition Modules ships with the following items: Power Cord, DC Power Adaptor, Quick Start Guide, USB Extension Cable, Agilent IO Library CD, L-Mount Kit, Product Reference CD, Certificate of Calibration.
| | | |
| --- | --- | --- |
| The U2781A USB modular instrument chassis is AC powered and compact. It has an external 10 MHz reference clock, external trigger in and trigger out functions. With the ability to house up to six Agilent U2300A Series USB modular multifunction data acquisition devices, the U2781A allows an expansion of up to 384 channels, making it flexible for users to adapt to a wide variety of measurement needs in instrument configuration. What's more, it also comes with a high-speed USB 2.0 interface which eases instrument setup and configuration with its plug-and-play and hot-swappable features. | | |
A BenchVue software license (BV0025B) is now included with your instrument. BenchVue makes it simple to connect, control instruments, and automate test sequences.