VIAVI OLP-82 Fiber Power Meter & Microscope Pro Kit
VIAVI OLP-82 Fiber Power Meter & Microscope Pro Kit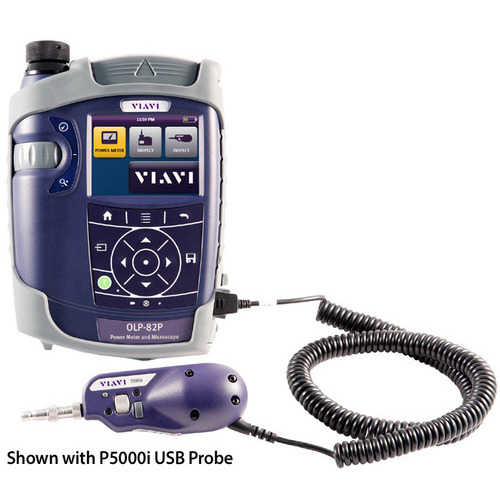 Condition:

New

Family Models:

FIT-82P01

Manufacturer:

VIAVI
Field-portable OPM with multiple calibrated wavelengths from 780 to 1625 nm
Modern, smart phone style user interface with touch screen
Automated PASS/FAIL analysis for fiber inspection and test
Supports both industry standards and user definable acceptance criteria
Connects to a PC via mini-USB to export data and manage acceptance criteria using FiberChekPRO™ software
On Board storage for all fiber inspection and test results
Integrated fiber certification reporting
High performance field test tools that integrate fiber inspection, testing, PASS/FAIL analysis and fiber certification into a single handheld device
Available with integrated PCM
Onboard storage for fiber inspection and test results
Two USB ports to connect additional devices such as a P5000i microscope
Automatic fiber-image centering
Rugged, weather-proof design
Video: OLP-82P Setup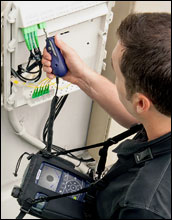 SmartClass™ fiber power meter and microscope
The new OLP-82 from VIAVI Solutions is the first handheld tool to combine pass/fail fiber inspection and optical power measurement (OPM) into one solution. As part of the new VIAVI Smart Class Fiber family, the OLP-82 helps service providers guarantee a lifetime of system performance from their network connectivity and gives contractors an essential tool for delivering best-in-class reliable networks to their customers.

The OLP-82 is ideal for technicians at any skill level with instant pass/fail acceptance results for both end-face quality and OPM in one button push. The OLP-82 can also save test results and generate certification reports to document work quality. Integrating these capabilities into one system helps the OLP-82 drive technician behavior toward implementing today's best practices in a seamless workflow that optimizes efficiency and reliability so they complete the job right- the first time.
Inspect and Test Fiber Anywhere
The handheld OLP-82 can be used anywhere today's fiber technicians go, up poles or down holes. Technicians get ultimate flexibility and performance from this powerful. easy-to-use solution that can help any technician become an instant fiber expert.
Combines Inspection and Test in One Handheld Device
Use either the onboard patch-cord microscope (PCM) or connect a P5000i digital analysis microscope to inspect fiber end faces and eliminate poor-quality components from entering your network. The benefits of using P5000i and PCM together include:
Optimizes technician performance with tools designed for workflow
Improves network activation with a reliable, repeatable processes
Ensures test leads are safely stored when not in use
Enables quick and easy inspection of both female (bulkhead) and male (patch cord) fiber connectors without changing tips
Included with OLP-82: Soft bag for SmartClass Fiber and accessories, Power supply for SmartClass Fiber (12 V), FiberChekPRO software installation disk, USB cable USB-A to micro-USB, Quick Start manual and safety instructions and eight (8) dry batteries.
Basic and Pro Kits also include: inspection tips, OPM adapter, hands-free carrier, rechargeable battery and much more. See descriptions.