Keysight N8900A InfiniiView Oscilloscope Analysis Software
Product Features
Open and view up to 8 waveforms; Share data files and screen shots Use any PC sharing tool (thumb drive, email, Web-conferencing) "Transportable" licenses allows loan of application plus data sharing Use familiar scope horizontal and vertical controls to quickly navigate and zoom in to any event of interest Access over 50 built-in automated measurements with a mouse click 20 math operators including FFT and filters, up to four independent/cascaded math functions
Expand Scope Measurement Access
This new offline PC application allows customers to view, analyze, share and document previously captured oscilloscope measurements. InfiniiView allows customers to view and analyze signals anywhere, without needing the signal, share screen shots and data files, and then quickly create and annotate data.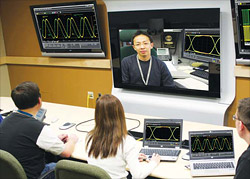 Share measurements using common tools like a USB or network drive, email, and Web-based collaboration.
InfiniiView analysis software supports a variety of popular waveform formats.
InfiniiView file compatibility
Infiniium
InfiniiVision
Composite file (all data and setup)
.osc
x
Waveform data record(s) (open and save)
.csv, tsv, txt, .bin, h5
x
x
.wfm
x
Oscilloscope setup file (open and save)
.set
x
| Manufacturer | Model | Description |
| --- | --- | --- |
| Keysight | Opt. 005 (N8900A-005) | High Speed Protocol Bundle Transportable perpetual license |
| Keysight | Opt. 002 (N8900A-002) | DSA Bundle Includes EZJIT, EZJIT +, EZJIT Complete, SDA, Transportable perpetual license |
| Keysight | Opt. 003 (N8900A-003) | Analysis Bundle Includes InfiniiSim, equalization, UDF, Transportable perpetual license |
| Keysight | Opt. 004 (N8900A-004) | Low Speed Protocol Bundle Transportable perpetual license |