Extech 407001 Data Acquisition Software and Cable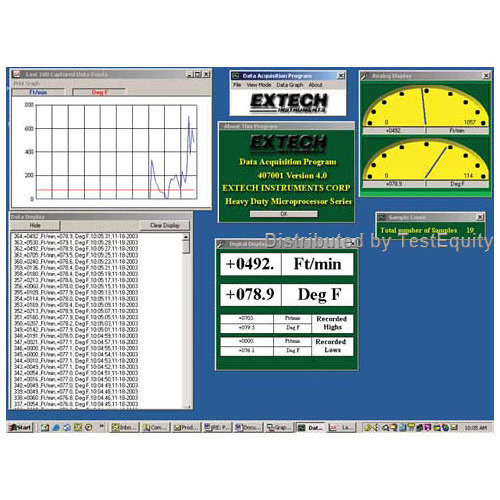 Brand:

Extech

Condition:

New
Data Acquisition Software and Cable
Enables user of Extech's Heavy Duty series to capture, display and store readings on a PC
Programmable sampling time: 1 sec to 60 mins
Import data into Lotus or Excel™
Includes Windows® 95/98/NT/2000 compatible software on CD-ROM and RS232 serial cable
The 407001 package includes a powerful software program that allows a PC to acquire readings from select (see chart below) Extech meters. The readings acquired can be displayed on a PC in a variety of formats (analog, digitally, and graphically).

The measurements can also be saved as a text file for later exporting to spreadsheet, database, or word processing software programs. The data files are saved in .mdb format that can be easily opened in most software programs widely used today including Microsoft Excel™ and Microsoft Access™.
The PC acquires a reading the moment the reading is taken by the meter. Readings are saved by the PC at the user-programmed sample rate (2 to 3600 seconds).
Compatible Meters
| Model No. | Meter Type | Display |
| --- | --- | --- |
| 407026 | Light Meter | Single |
| 407113 | Vane Anemometer | Dual |
| 407119 | Hot Wire CFM Anemometer | Dual |
| 407123 | Hot Wire Anemometer | Dual |
| 407495 | Pressure Meter | Single |
| 407510 | Dissolved Oxygen (DO) Meter | Dual |
| 407768 | Sound Level Meter | Single |
| 407777 | Moisture Meter | Single |
| 407860 | Vibration Meter | Single |
| 407907 | RTD Thermometer | Single |
| 407910 | Differential Pressure Manometer | Single |
| 461880 | Vibration + Laser Tachometer | Single |
| 475055 | Force Gauge | Single |
| SDL100 | pH/ORP/Temperature Datalogger | Dual |
| SDL150 | Dissolved Oxygen Meter/Datalogger | Dual |
| SDL200 | Datalogging Thermometer | Quad |
| SDL300 | Thermo-Anemometer/Datalogger | Dual |
| SDL310 | Thermo-Anemometer/Datalogger | Dual |
| SDL350 | Hot Wire Thermo-Anemometer Datalogger | Dual |
| SDL400 | Light Meter/Datalogger | Single |
| SDL500 | Hygro-Thermometer/Datalogger | Dual |
| SDL550 | Moisture Content Meter/Datalogger | Dual |
| SDL600 | Sound Level Meter/Datalogger | Single |
| SDL700 | Pressure Meter/Datalogger | Single |
| SDL800 | Vibration Meter/Datalogger | Single |