Fluke 2638A/05 120 Data Acquisition Unit/Data Logger 20 Channel CAT2 300 V Hydra Series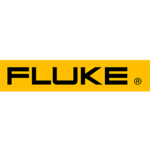 Fluke 2638A/05 120 Data Acquisition Unit/Data Logger 20 Channel CAT2 300 V Hydra Series
25841.1
MFG #: 2638A/05 120
1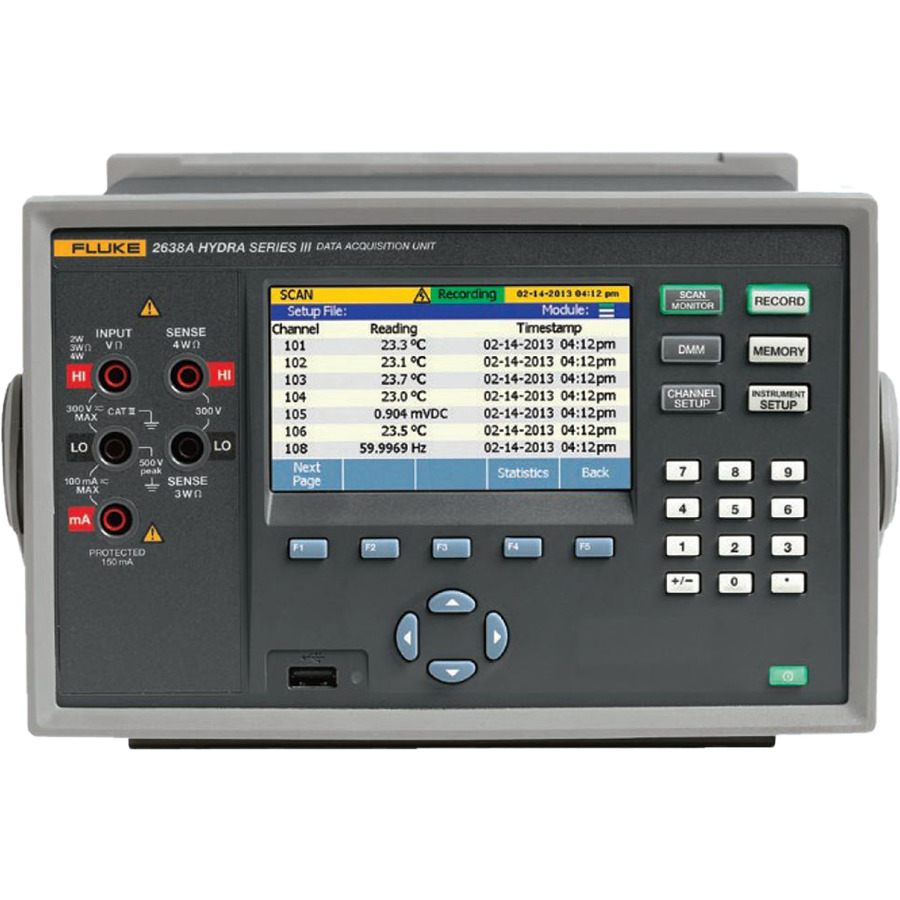 Drill Down Description:

Data Acquisition Unit/Data Logger, 20 Channel, CAT2 300 V, Hydra Series

Model:

2638A/05 120

Web Meta Description:

Fluke 2638A/05 is a precision 22 channel true differential analog input data logger built on a 6.5 digit precision digital multimeter.

Quote Required:

No

Condition:

New

Accessories Sort Priority:

0

Multiple Sale Qty:

1

Number of Channels:

20 Channel

Series:

Hydra Series

UNSPSC:

4111000000
2638A 05 120
22-Channel, stand-alone data acquisition system
DC accuracy of 0.0024%
Thermocouple accuracy of 0.5°C
22 (expandable to 66) universal differential isolated inputs
Can accommodate three input modules (ships with one 2638A-100 module)
On-screen color trend graphing and analysis
Easy-to-use menu system for setup and data management
Input types: ac V, dc V, ac I, dc I, thermocouple, PRT (2, 3, 4 w), thermistor, resistance (2-4 w), frequency
Multi-channel real-time data display
6.5-digit bench DMM function for front-panel inputs
Monitor function for real-time viewing and charting between scans
20 on-board math channels
One-button screen capture of chart or data displays
45 channels/second basic DC scan rate
Internal 75,000 scan/setup file memory
USB flash drive support
LAN Communications (SCPI)
Data security features
CAT II 300 V input safety rated
Supported by TQSoft and TQAero thermal validation software for enhanced data collection in regulated industries
One-year warranty
Price-performance breakthrough in a stand-alone data acquisition system
The Fluke 2638A/05 is a 22-channel true differential analog input data logger with the Fluke Universal Input Connector that lets you connect and disconnect any type of input to any channel, quickly and easily. Selectable inputs include dc voltage, ac voltage, resistance, thermocouple, RTD, thermistor, frequency and dc and ac current. You can also use the 2638A/05 with optional software and other Fluke data loggers to create a flexible, customized data acquisition system.
Accurate industrial thermocouple measurements
DC measurement accuracy of 0.0024%, basic 0.5°C thermocouple accuracy, full-color display, easy-to-use menu system and industrial safety ratings put the 2638A in a category of its own as a precision data acquisition system. The dedicated 6.5 digit digital multimeter (DMM) mode provides additional utility and value. The Universal Input Connector supports 14 common thermocouple types. Temperature-focused menu selections make the 2638A/05 especially suitable for temperature validation applications. If you need to "zero" a large number of thermocouples to a known reference temperature before starting a temperature profiling or validation test, the 2638A/05 will normalize all readings to your reference channel at the push of a button and store the offsets for reference in a supporting data file. If you are conducting chamber tests, heat treating tests under AMS guidelines, or validating temperature devices under 21 CFR regulations, Hydra Series III makes it that much easier to comply.
Graphical color display with easy-to-use menus
Back-lighted function keys quickly confirm the active menu selection. Copy-and-paste channel functions make repetitive channel setups a simple task. And you can view your data with the push of a button. Page through all channel data and alarms in a quick view mode or scroll through channels and channel statistics individually.
Universal Input Connector
The Universal Input Connector plugs into the slot in the 2638A/05 that contains a serviceable relay card. The Universal Input Connector has 22 input channels (20 universal inputs and 2 dedicated, low-burden input current channels). Each input connector contains a CJC (cold-junction compensation) device, which is calibrated at the factory. The calibration date and input connector serial number are programed into the input connector and are read by the 2638A/05 when installed. This information is saved in the test setup data file, which is available for review with any associated scan data from a test setup. This feature is a valuable form of traceability if you are working in a regulated industry.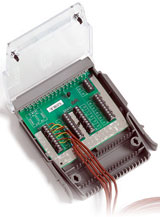 The 20-input Universal Input Connector saves the calibration date and input connector serial number with test data.
Additional 2638A Hydra Series III features:
Real-time data charting with historical review
Multi-Language support
Screen capture function
Two alarm points per channel
Math channels
6.5 digit (22-bit) precision digital multimeter
USB and internal memory
Flexible triggers and resolution
USB, LAN, and Fluke DAQ Connectivity
Data Security/Traceability
Built-in relay maintenance counter
Accurate industrial thermocouple measurements
Included with 2638A/05: installed and factory-tested relay card and one Universal Input Connector, test leads, product manual, safety information and an evaluation copy of 2680A-APSW software on CD, power cord, screwdriver, and statement of calibration practices.
Fluke 2638A Hydra Series 3 Datasheet
Fluke Data Acquisition Brochure
Fluke Data Acquisition System Selection Guide
Fluke TQSoft TQAero Thermal Validation Datasheet