Hioki LR5001-20 Temperature and Humidity Logger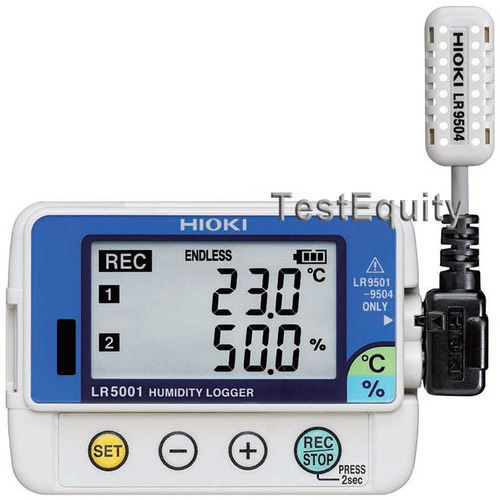 Drill Down Description:

Temperature and Humidity Logger

Model:

LR5001-20

Web Meta Description:

If you are searching for a Hioki LR5001-20 Temperature / Humidity Logger, TestEquity can provide the solution you need. We carry the best electronic test & measurement solutions from top manufacturers

Quote Required:

No

Condition:

New

Accessories Sort Priority:

0

Multiple Sale Qty:

1

UNSPSC:

4111000000
Typical usage scenarios
Temperature and temperature/humidity loggers
Record and manage temperature and humidity in offices and factories. Reduce air conditioning and other costs by visualizing temperature and humidity data
Clamp loggers
Record and manage load current in factory and construction equipment. Contribute to energy efficiency measures by visualizing power consumption costs. Monitor leak current and utilize captured data in electrical maintenance
Instrumentation loggers, pulse loggers, and voltage loggers
Record and manage the flow rate of gases and liquids such as water and oil. Investigate flow rate trends by measuring output signals from flowmeters.
Specific applications
Measurement of solar irradiation when installing solar power systems
Management of temperature and humidity when shipping products or foods
Management of temperature in pharmaceutical or part warehouses
Maintenance of air conditioning equipment
The new HIOKI LR5000 compact data logger series easily records temperature, voltage, current, and instrumentation signals over long periods. The LR5000 series includes features and functions such as 7 times the recording capacity of former models, data import during recording, continuous measurement even during battery replacement, and intuitive PC software.
Flexible and easy-to-use at single and multiple locations, the new LR5000 compact data logger series is ideal for any application that requires simple set-up, but long-term, reliable recording capabilities.
Principal LR5000 Series Specifications
Model
LR5001-20
LR5011-20
LR5031-20
LR5041-20
LR5042-20
LR5043-20
LR5051-20
Name
Temperature and Humidity Logger
Temperature Logger
Instrumentation Logger
Voltage Logger
Clamp Logger
Functionality
Records 2 channels of temperature and humidity data using the included temperature and humidity sensor.
Measures temperature using an external temperature sensor. Select the sensor that's right for your measurement target.
Measures up to 20 mA DC, making it ideal for recording instrumentation signals.
Measures DC voltage, making it ideal for recording instrumentation signals as well as analog signals from sensors and other devices.
Records load current and leak current using a connected clamp sensor. Ideal for analyzing energy savings and troubleshooting.
Measured data
Temperature × 1 channelHumidity × 1 channel
Temperature × 1 channel
DC current × 1 channel
DC voltage × 1 channel
AC voltage × 2 channels
Measurement range
Temperature: -40.0°C to 80.0°C
Humidity: 0% to 100% rh
-40.0°C to 80.0°C
*Subject to limitations imposed by type of sensor used.
-30.00 to 30.00 mA
LR5041: -50.00mV to 50.00mV
LR5042: -5.000V to 5.000V
LR5043: -50.00V to 50.00V
0 to 1,000 A (50/60 Hz)
*Subject to limitations imposed by type of sensor used.
Accuracy
Temperature: ±1°C
(-10°C to 60°C)
Humidity: ±3%
(10°C to 35°C, 10% to 90% rh)
±1°C (-40°C to 70°C)
±0.5% rdg ±5 dgt
±0.5% rdg ±5 dgt
±0.5% rdg ±5 dgt
(50/60 Hz)
Water resistance
IP54 (resistant to splashing water)
IP54 (resistant to splashing water)
IP54 (resistant to splashing water)
IP54 (resistant to splashing water)
None
Recording interval
1/2/5/10/15/20/30 sec, 1/2/5/10/15/20/30/60 min
Dimensions and weight
79 (W) × 57 (H) × 28 (D) mm, 105 g
79 (W) × 57 (H) × 28 (D) mm, 105 g
79 (W) × 57 (H) × 28 (D) mm, 105 g
79 (W) × 57 (H) × 28 (D) mm, 105 g
79 (W) × 70 (H) × 37 (D) mm, 160 g
Warranty
One year