Keysight 3499B Switch/Control Mainframe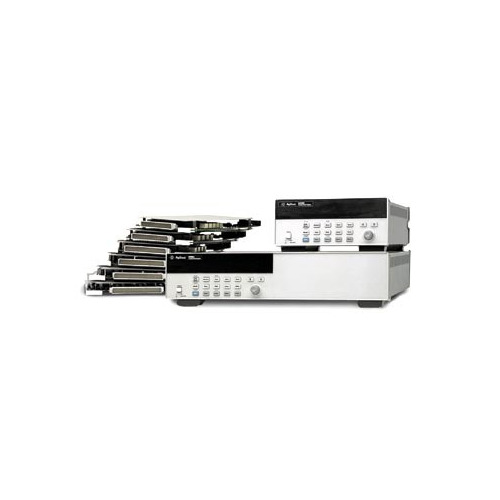 Drill Down Description:

Switch/Control Mainframe

Model:

3499B

Web Meta Description:

Shop here for the Keysight 3499B Switch/Control Mainframe plus the other tools & supplies. With unmatched product selections, TestEquity offers everything you need to get the job done.

Product Code:

UsedList

Quote Required:

No

Condition:

Used

Accessories Sort Priority:

0

Multiple Sale Qty:

1

UNSPSC:

4111000000
3499A/B/C
High throughput in a small space. You can increase test throughput without adding floor space.
"Just enough" functionality. Wide range of 26 modules to select from.
Multi-function modules integrating switching, DAC and digital I/O.
Built-in relay cycle counters for ease of maintenance.
Easy wiring for simplifying cabling and increasing reliability.
Users can now have simple, robust interconnections for system set-up and fast module exchanging.
The Keysight 3499 family provides a high-speed, high-density electronic/optical switching solution for automatic test engineering (ATE) applications, with a 30% cost and space savings over its predecessor, the 3488A. It can scan at rates up to 350 channels per second, or open/close 200 channels in less than 0.1 second.
The Keysight 3499A/B/C, with its large plug-in module selection, is an excellent switching solution for today's diverse automated test system requirements. Typical applications include production test of cellular phones, battery chargers, base stations, pagers, printers, power supplies, optical components and electronic components, as well as SONET test, fiber-optic component test, and fiber network monitoring. The Keysight 3499 family provides high-density plug-in modules, high switching speeds, ease of wiring, and low cost per channel.
The Keysight 3499A can accommodate up to five plug-in modules, routing up to 200 channels.
The Keysight 3499B is a half-rack-width, 2-slot mainframe, allowing switching for up to 80 channels for ATE or desktop operations.
The Keysight 3499C has 9 logical and 14 physical slots, routing up to 360 channels.
All units have a concise user interface that is extremely useful for manual operation on the manufacturing floor or in desktop applications. High-performance switching modules, multi-function modules, built-in relay cycle counters and easy interconnections all contribute to provide a switching solution you can trust.