Fluke 985 Airborne Particle Counter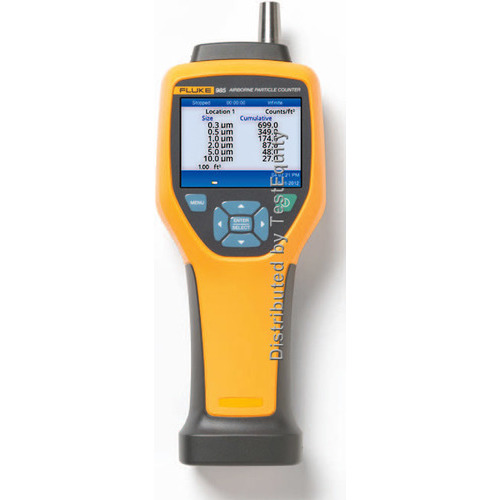 Brand:

Fluke

Condition:

New

Family Models:

FLUKE 985
Six channels and a particle size range of 0.3 μm to 10 μm
Ultra-lightweight and ergonomic design for easy single-hand operation
Ten hours of standard-use battery life to last a full work day
Large 3.5 inch QVGC color display with backlight, intuitive icons, and large font options
10,000 records stored in device for easy access to historical data
Data can be viewed in traditional tabular or trend graph at the user's preference
Configurable display, sample methods, and alarm setting for sample size count
Data export to USB memory stick or direct connection to PC via USB cable. No special software required
Ethernet enabled for accessing data via internet browser (Windows Explorer, Safari, and Firefox)
USB/Ethernet charge cradle ensures the unit always ready for use
Administrator password control (optional) for added security
Meets ISO 21501, JIS B9921, and CE standards
One-year warranty
The Indispensable Tool for Maintenance, HVAC and IAQ Professionals
The new Fluke 985 Particle Counter is ideal for troubleshooting and monitoring indoor air quality issues and verifying HVAC filter performance and critical locations for ISO Class 5–9 certification. With the ultra-light weight ergonomic design, easy to view color screen with intuitive icons, on-screen trend graphs for easy and quick analysis, the Fluke 985 is a must for any maintenance, HVAC and IAQ professional.
With a large screen, intuitive icons for navigation and on-screen data presentation, the Fluke 985 allows users to run more tests quickly, with less time spent cycling through screens to obtain the data. The Fluke 985 is lightweight and easy to use in any position and with easy data export options using USB cable, memory stick it's easy to review and analyze the data anywhere and anytime.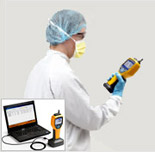 The Fluke 985 has a variety of viewing and display features, and is lightweight and ergonomically designed — making it especially useful for:
Operations Technicians
Maintenance/Facilities Technicians
Certified Industrial Hygienists
IAQ Specialists
HVAC/R Technicians
Includes: Getting started manual and users manual CD, Cradle for charging and convenient USB and Ethernet Communications, ENET CAT5E 7-foot cable, USA-A to MINI-B 6-foot cable, 12 V dc power supply, Zero count inlet-filter, Filter adapter, and Sample inlet protective cap, and hard case.