Flir MR40 Moisture Pen + Flashlight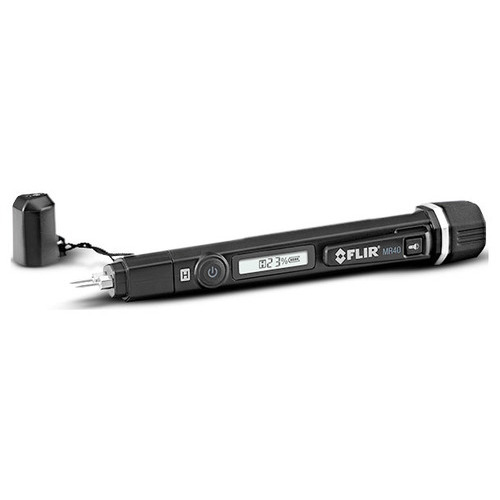 Drill Down Description:

Moisture Pen + Flashlight

Model:

MR40

Web Meta Description:

FLIR MR40 is a pocket-portable, rugged 2-pin, singlescale moisture meter.

Quote Required:

No

Condition:

New
Measurement Range: 5% to 60% Moisture Content IP54 splash-proof rated, operating temperature: -10°C to 50°C Single-scale moisture meter and flashlight Drop-tested and IP rated for water resistance MR40 fits in your pocket to easily carry with you Includes two sets of replaceable pins Includes Measurement 'Hold', Calibration/Pin Check, and audible range indication features LCD display Limited Lifetime Warranty
Quickly and easily locates and quantifies moisture content
The FLIR MR40 is a pocket-portable, rugged 2-pin, single-scale moisture meter with an integrated flashlight for wood and common building materials — ideal for builders, building inspectors, remodelers, moisture remediation technicians, pest control professionals, and residential roofing and flooring contractors. The MR40 is a quick and easy-to-use tool to find and quantify moisture content.
When used in combination with a thermal camera, MR40 can help confirm whether a cold spot in a thermal image is moisture, and measure the severity of the problem.
Included with MR40 Moisture Pen + Flashlight: spare set of pins.