Extech MO230 Pocket Moisture Meter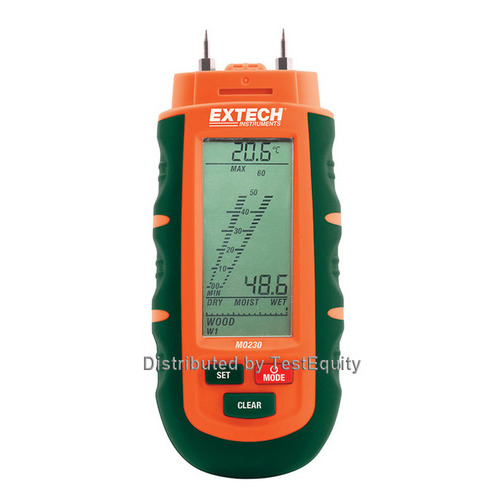 Brand:

Extech

Condition:

New
Unique Digital LCD readout with analog bargraph and numerical displays Simultaneous digital readout of moisture content plus ambient temperature or humidity Use on wood, paper, wall board, sheet rock, cardboard, plaster, concrete, and mortar Index Mode with programmable high and low values Replaceable threaded measurement electrode pins Impact-proof housing Auto power-off conserves battery energy Built-in battery check and measurement verification test One-year warranty
Displays moisture in wood and other building materials plus Air Temperature and Relative Humidity.
Large dual graphical LCD simultaneously displays digital readout of moisture content in wood or other building materials plus ambient temperature or humidity with analog bargraph reading of moisture, Max moisture values, and programmable wet/dry indication. Use on wood, paper, wall board, sheet rock, cardboard, plaster, concrete, and mortar. Memory contains 3 wood groups and 4 building material groups with calibrations for approximately 150 species of wood and 19 building material types. Index Mode with programmable high and low values can be used to quickly locate moisture with comparative measurement. Replaceable threaded measurement electrode pins.
Includes: protective cap, replacement pins, and three CR-2032 button batteries.