Rohde & Schwarz FPC-COM2 Spectrum Analyzer w/ Tracking Generator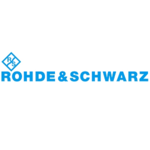 Rohde & Schwarz FPC-COM2 Spectrum Analyzer w/ Tracking Generator
2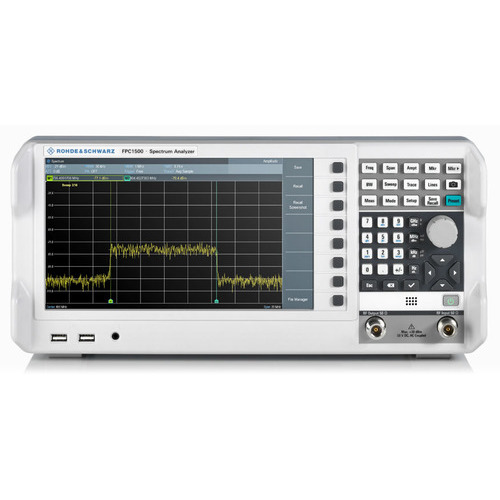 Drill Down Description:

Spectrum Analyzer w/ Tracking Generator

Model:

FPC-COM2

Web Meta Description:

Find the product you need with our Rohde & Schwarz FPC1500.03 Spectrum Analyzer w/ Tracking Generator. We proudly offer best-in-class customer service and will help you find the solutions you need for

Promo Text:

a href=inch/rohdeandschwarz-full-bench-high-valueinch onclick=inchvar trackerName = ga.getAll()[0].get('name');ga(trackerName + '.send','event','Sub-Promo-ROH','Click','2021-May-10-roh

Quote Required:

No

Condition:

New

Accessories Sort Priority:

0

Multiple Sale Qty:

1

UNSPSC:

4111000000
FPC1500.03

Frequency range: Up to 3 GHz
Preamplifier
Spectrum Analyzer, Tracking Generator, VNA, Sig Gen
Modulation analysis plus more
Frequency range: 5 kHz to 1 GHz, Upgradable to 2 GHz or 3 GHz
Tracking generator and independent CW signal generator
One-port vector network analyzer with Smith chart display
Signal generator
Internal VSWR bridge
Independent signal source
Resolution bandwidth settings down to 1 Hz
10.1" WXGA (1366 x 768 pixel) display
Wi-Fi-enabled w/ remote control (included)
Easy virtual control w/ iOS/Android/PC
Low noise floor / High max. input power
Receiver mode for EMI debugging on circuit boards, integrated circuits, cable shielding, etc.
Three-year warranty
Value of Three
More than a spectrum analyzer: The R&S®FPC1500 provides the value of three most commonly used instruments on an RF engineer's workbench, for instance in IoT device development.
Spectrum Analyzer
Investment protection ♦ High resolution ♦ Easy virtual control
The R&S®FPC1500 base instrument has a frequency range from 5 kHz to 1 Ghz with keycode options to unlock up to 3 GHz and other features. The FPC1500 provides the best dynamic range in its class. In combination with RBW settings down to 1 Hz, it resolves the finest details, which are displayed on the high-resolution 10.1" WXGA display. Wired or wireless remote control options included.
High Resolution
The quality of RF measurements strongly depends on suitable resolution bandwidth settings. Finer resolution bandwidth means more resolved spectral detail. High sensitivity is critical in many applications, e.g. when measuring extremely weak signals. The FPC1500 provides an extraordinarily low noise floor of typically -150 dBm with 1 Hz resolution bandwidth setting. The optional FPC-B22 preamplifier increases sensitivity even further, to typically -165 dBm, allowing for measurements of high-power signals of up to +30 dBm (1 W). The combination of low noise floor and high max. input power provides an exceptionally wide measurement dynamic range.
Network Analyzer
Internal VSWR bridge ♦ One-port vector network analyzer ♦ Smith chart
The FPC1500 features an internal VSWR bridge that makes purchasing and mounting/ dismounting an external bridge unnecessary. S11 reflection measurements are supported, including Smith chart and DTF features.
Internal VSWR bridge
Due to its unique design utilizing an internal VSWR bridge, the FPC1500 can perform one-port vector reflection measurements. This feature makes it possible to take impedance measurements on RF antennas or RF circuits with the Smith chart display or distance-to-fault measurements to detect faulty locations over a long RF cable. The built-in internal VSWR bridge eliminates the need to mount/dismount an external VSWR bridge when switching between the measurement modes, e.g. from the spectrum analyzer mode to the vector network analyzer mode or vice versa.
Signal Generator
Tracking generator ♦ Independent signal source ♦ Coupled CW mode
The FPC1500 not only features standard tracking generator measurements with frequency offset functionality, its signal source is independent to enable signal generator functionality. A CW signal can be set within the frequency range, or in a coupled mode to follow the center frequency setting of the spectrum analyzer mode.
Tracking generator
RF engineering often requires testing of passive or active RF circuits that do not produce any RF signal on their own, such as amplifiers, filters or even RF cables. A standalone spectrum analyzer is not sufficient here, a signal generator is required. The FPC1500 features tracking generator functionality, which makes scalar transmission measurements possible, for example frequency response measurements on RF filters.
Independent signal source
The FPC1500 can do even more, using its integrated signal source in an independent mode. This unique capability enables the FPC1500 to act as a continuous wave (CW) signal generator. The source can be used e.g. as a LO signal for mixer measurements or as an input signal for amplifier gain measurements.
Unexpected performance and high value at a budget-friendly price
Investment protection, high resolution and easy control — these traits make the R&S®FPC1500 spectrum analyzer a perfect tool for university laboratories, research institutions as well as production and service facilities.
Included with FPC1500: power cable and USB cable for connection to PC.