B&K Precision 4045B Arbitrary Function Generator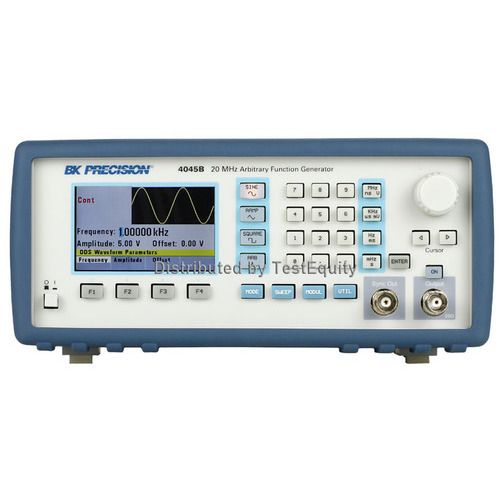 Brand:

B&K Precision

Condition:

New
12-bit, 50 MSa/s, 1k point arbitrary waveform generator 20 MHz Frequency Range (sine and square) Sine, Square, Triangle, and Arbitrary Waveforms Arbitrary Waveform Length - 2 points to 1,000 points Arbitrary Waveform Sampling rate - 20 ns to 5 0s Clean, precise DDS waveform generation Modulation in both AM & FM Sweep Function: Linear or Logarithmic, up or down Sweep time: 10 ms to 100 s Variable Duty Cycle
Sweep Function Generator with Arb Function
Model 4045B is a versatile 20 MHz DDS sweep function generator with arbitrary waveform capabilities. The instrument generates sine and square waveforms up to 20 MHz, triangle/ramp waveforms up to 2 MHz, and arbitrary waveforms (12-bit, 50 MSa/s, 1k point) with high signal precision and stability. Providing variable output voltages from 0 to 10 Vpp into 50 ohms (up to 20 Vpp into open circuit), the 4045B also offers linear and logarithmic sweep, AM/FM modulation, and a continuously variable DC offset to inject signals directly into circuits at the correct bias level. The unit also provides linear and logarithmic sweep for users needing sweep capability. An auxiliary TTL output at the generator's set frequency is available to synchronize external devices. The i4045B can also be remotely operated via the USB interface and is SCPI compatible.
Included: Instruction manual on CD, power cord, USB (type A to B) interface cable, certificate of calibration, remote control application and arbitrary waveform editing software.
Specifications
4007B
4013B
4014B
4040B
4045B
4047B
Frequency
(sine & square)
0.1 Hz - 7 MHz
0.1 Hz - 12 MHz
0.01 Hz - 12 MHz
0.01 Hz - 20 MHz
0.01 Hz - 20 MHz
Frequency (triangle/ramp)
0.1 Hz - 1 MHz
0.01 Hz – 1 MHz
0.01 Hz – 2 MHz
Output range (50 Ω)
10 mVpp to 10 Vpp
Distortion
DC - 100 kHz, -55 dBc
0 – 1 MHz, < - 60 dBc
Variable Duty Cycle
(square)
20% - 80% to 1 MHz
20% to 80 %, up to 2 MHz
Variable Duty Cycle (triangle)
20% - 80% to 2 MHz for square,
0% - 100% in 1% steps
1 % to 99 % in 1% steps,
up to 200 kHz