Hioki ST5541 Leak Current Tester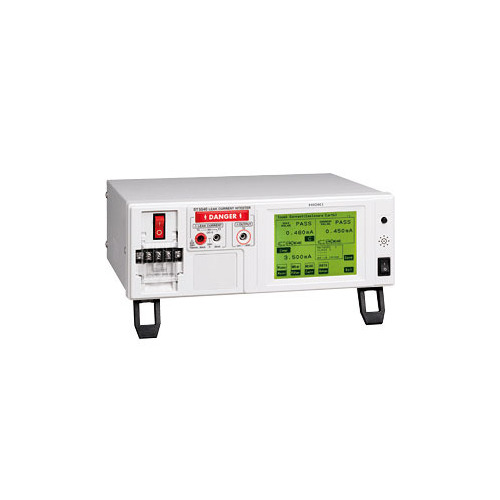 Drill Down Description:

Leak Current Tester

Model:

ST5541

Web Meta Description:

Find the product you need with our Hioki ST5541 Leak Current Tester. We proudly offer best-in-class customer service and will help you find the solutions you need for your business.

Quote Required:

No

Condition:

New

Accessories Sort Priority:

0

Multiple Sale Qty:

1

UNSPSC:

4111000000
IEC 60601-1: (2005) 3rd Edition-compliant
The ST5540 complies with JIS, IEC, and UL standards governing medical- and general-use electrical devices
ST5541: A low-cost solution that complies with standards governing general-use electrical devices
Uninterrupted polarity switching function dramatically reduces cycle time
Support for rated currents up to 20 A gives the instrument more than adequate capability for testing products designed to comply with new standards
Touch panel features simple, interactive operation
Communications functionality and external I/O support allow automatic testing on production lines
1-Year warranty
A single, Robust Solution for Leak Current Measurement
The ST5540 and ST5541 feature an improved measuring method and dramatically faster cycle times, thanks to their uninterrupted polarity switching. These new Leak Current Testers support rated currents of up to 20A, making them more than ideal for use with products built to new standards.
Compare the ST5540, ST5541 Leak Current Testers
Item
ST5540
ST5541
Network
Network A
Network B1
Network B2
Network C
Network D
Network E
Network F
Network G
Testing leakage current mode
Earth leakage current
Touch current
Patient auxiliary current
Patient leakage current
Total patient leakage current
Free current
Enclosure - Earth leakage current
Enclosure - Enclosure leakage current
Enclosure - Line leakage current
Patient leakage current I
Patient leakage current II
Patient leakage current III
Major functions
Power on polarity switching function
Rated current 20 A
Function for checking for blown fuses
Frequency band switching
110% voltage output terminal (T3 terminal)
S10, S12, S13, E terminal
Please see Data Sheet for complete specifications.
For applications involving leak current measurement of medical-use electrical devices, use the ST5540.
The ST5540 does not include an isolation transformer (needed for measuring leak current for medical-use electrical devices).