Instek GLC-9000 Leakage Current Tester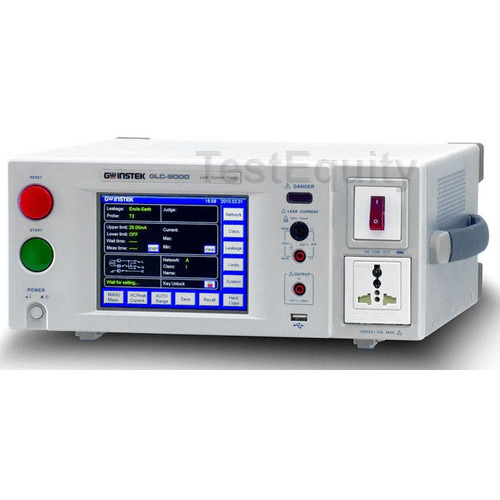 Brand:

Instek

Condition:

New
Touch Panel with Color LCD Display
9 Different Measurement Networks to Simulate the Resistance of Human Body
8 Different Types of Leakage current for Medical & General Electrical Equipment
Leakage Current Measuring Mode: DC/AC/AC+DC/AC Peak
Upper & Lower Limitation for PASS/FAIL Judgment
Meter Mode with SELV/CONV Function
50 Preset Test Conditions Conform to IEC 60990; 30 Sets Memories for Customer Defined Conditions
RS-232, GPIB, USB Host & Device/EXT I/O
The GLC-9000, leakage current tester, is used to perform leakage current (or called touch current) tests on medical electrical (IEC 60601-1) and general purpose electric & electronic (IEC 60990) equipment. This tester engages with nine measurement networks (also called Measuring Device) to provide the simulation of human body while the device under test is taking a leakage current testing in compliance with the specific standards or regulations such as IEC, UL, JIS, and more.
In order to provide a simple operation environment, the GLC-9000 has a large TFT LCD touch panel to configure system as well as to present the measurement settings information and result simultaneously. There are 50 preset testing conditions which conform to IEC60990 and other standards In addition, 30 sets empty memory are available for user defined settings.
A Meter mode is also available with the GLC-9000. It uses the measurement terminal (T1/T2) to measure voltage as the same way of ordinary voltmeter. During the voltage measurement, the SELV function (safety extra low voltage) is applicable to detect whether the voltage value between measuring points exceed the SELV setting.