Fluke 805 FC Vibration Meter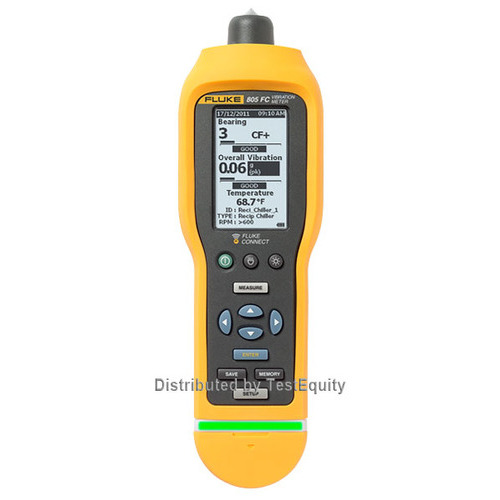 Brand:

Fluke

Condition:

New

Family Models:

FLUKE 805 FC

Consistent data quality at both low and high frequency ranges
Innovative sensor design minimizes measurement variations caused by angle or contact pressure
Four-level severity scale gauges problem urgency for overall vibration and bearing condition
Exportable data via USB
Trending in Microsoft® Excel using pre-built templates
Overall vibration measurement (10 Hz to 1,000 Hz) for acceleration, velocity and displacement units of measurement for a wide variety of machines
Crest Factor+ technology provides reliable bearing assessment using direct sensor tip measurements between 4,000 Hz and 20,000 Hz
Compare vibration levels w/ ISO-10816 severity scales, store results to the Fluke Connect Cloud
Get authorization to take next steps in an instant if machine health is at risk via Fluke Connect™ Share-Live™ video call
Colored lighting system (green, red) and on-screen comments indicate how much pressure needs to be applied to take measurements
Temperature measurement with Spot IR Sensor increases diagnostic capabilities
On-board memory holds and saves up to 3,500 measurements
External accelerometer support for hard to reach locations
Flashlight for viewing measurement locations in dark areas
Large screen with high resolution for easy navigation and viewing
Eliminates the Confusion of Vibration Screening
Make go or no-go maintenance decisions with confidence. The Fluke 805 FC Vibration Meter is one of the most reliable vibration screening device available for frontline mechanical troubleshooting teams that need repeatable, severity-scaled readings of overall vibration and bearing condition.
Features and benefits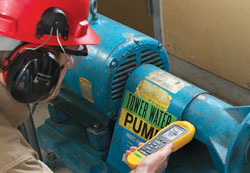 Innovative sensor design minimizes measurement variations caused by device angle or contact pressure
Consistent data quality at both low and high frequency ranges
Four-level scale indicates severity of problems for overall vibration and bearing condition
Exportable data via USB
Trending in Microsoft® Excel using built-in templates
Large screen with high resolution for easy navigation and viewing
Flashlight for viewing measurement locations in dark areas
External accelerometer support for hard to reach locations
Infrared temperature sensor increases diagnostic capabilities
On-board memory holds up to 3,500 measurements
Audio output for listening to bearing tones directly
Crest Factor+ technology provides reliable bearing assessment using direct sensor tip measurements between 4,000 Hz and 20,000 Hz
Overall vibration measurement (10 Hz to 1,000 Hz) for acceleration,velocity and displacement units of measurement for a wide variety of machines
Colored lighting system (green, red) and on-screen comments indicate how much pressure needs to be applied to take measurements
Optional 805/ES External Sensor takes measurements in crowded or hard-to-reach locations, behind machine guards or enclosures, or in out-of-reach places
What is Crest Factor+?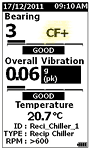 Crest Factor+ is a new proprietary algorithm (or technology) that takes the confusion out of bearing assessment. The original Crest Factor is used by vibration analysts to identify bearing faults. It is defined as the ratio of the peak value/RMS value of a time domain vibration signal.
A key limitation of the original Crest Factor algorithm is that it does not increase linearly as the bearing degrades, making it very difficult to determine the severity of mechanical issues. In order to overcome this limitation, Fluke uses a proprietary algorithm known as Crest Factor+ (CF+). CF+ values range from 1 to 16. As the bearing condition worsens, the CF+ value increases, ensuring you're easily able to recognize the severity of the problem.
Fluke Connect: the Largest Suite of Connected Test Tools in the World!
The Fluke Connect wireless system is the best way for maintenance technicians to stay in contact with their teams without leaving the field. The Fluke Connect app works with scores of Fluke tools to make diagnosing and solving problems easier than ever. By using the Fluke Connect tools with the app, you can efficiently and safely capture, store and share maintenance data from the field.
Includes: USB cable, storage case, belt holster, quick reference guide, CD-ROM (includes MS Excel template and documentation), and four (4) AA batteries.