Keysight J7205A 002 Attenuation Control Unit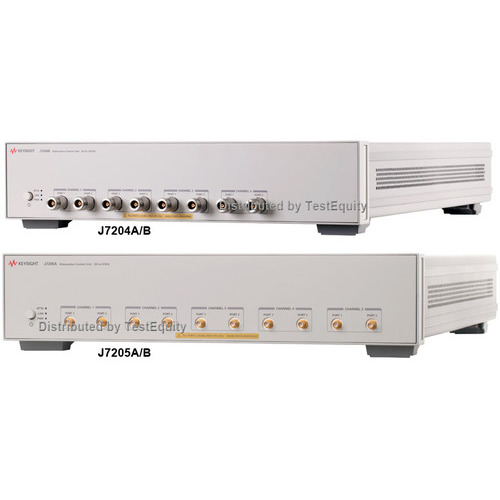 Brand:

Keysight

Condition:

New
J7204A/B: 4-channel, DC to 6/18 GHz
J7205A/B: 5-channel, DC to 6/18 GHz
Exceptional 0.03 dB insertion loss repeatability per section for the entire 5 million cycles ensures accuracy and reduces calibration intervals
Excellent attenuation accuracy and flatness ensures precise measurements
Multi-channel attenuation path (up to 5-channels) enables multi-DUT measurements at one time
Calibration data in CD format
Long operating life cycles of 5 million reduces operating and ownership cost
LAN and GPIB interface with soft front panel provide easy connectivity, programming flexibility and control
Three-year warranty
The 4-channel J7204A/B and 5-channel J7205A/B attenuation control units feature excellent 0.03 dB insertion loss repeatability. Attenuation accuracy and flatness provides the much-needed test accuracy and reliability for receiver sensitivity test, or fading test. In addition, the long operating life of 5 million cycles and the ability to test multiple DUTs (4 or 5 devices) provides a lower cost of test and ownership.
The J7204A/B and J7205A/B multi-channel attenuation control units provide calibration data (as an option) to allow you to do a correction on the attenuation value and provides you with the exact input power level for each DUT. In addition to the superb repeatability of 0.03 dB and excellent attenuation accuracy and flatness, this method ensures the utmost accuracy and stability of the input power when performing receiver sensitivity test.
Designed for a standard full rack, 2-unit-high form factor, these attenuation units allow flexibility in control, operation and remote triggering through LAN, GPIB with multiple programming language supportability.
J7204A
J7204B
J7205A
J7205B
Frequency range
DC to 6 GHz
DC to 18 GHz
DC to 6 GHz
DC to 18 GHz
Number of channels
4-channels
4-channels
5-channels
5-channels
Attenuator type
Electro-mechanical attenuator
Attenuation accuracy range/steps
0 to 121 dB, 1 dB steps
Max insertion loss (at 0 dB)
2.5 dB
DC to 6 GHz: 2.5
dB 6 to 18 GHz: 5.0 dB
2.5 dB
DC to 6 GHz: 2.5 dB
6 to 18 GHz: 5.0 dB
Return loss (VSWR)
14 dB (1.50)
DC to 6 GHz: 14 dB (1.50)
6 to 18 GHz: 10 dB (1.90)
14 dB (1.50)
DC to 6 GHz: 14 dB (1.50)
6 to 18 GHz: 10 dB (1.90)
Please refer to Technical Overview for complete specifications.
Applications include: Multi-channels multi-technology wireless component receiver sensitivity testing of WLAN, WiFi, Bluetooth and RFID devices.