FieldFox and HSA Handheld Spectrum Analyzers
Choose precision or value spectrum analysis at RF or microwave frequencies
Carry Keysight-quality microwave measurements wherever you need to go

Boost your readiness with an RF unit: every operating mode is flexible enough to meet the needs of novices & experts alike

Endure the harshest working conditions with analyzers designed for durability – completely sealed, rugged & weather-resistant

Save time and ensure consistent results by automating routine tasks for basic spectrum analysis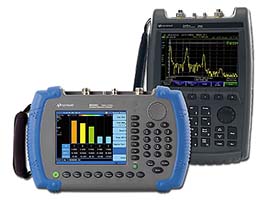 FieldFox Handheld RF and Microwave Analyzers

Industry's most integrated handheld RF and microwave analyzers
NEW Wider analysis bandwidth – up to 100 MHz – makes 5G field test a reality (FieldFox B Models)

NEW Capture the smallest interfering signals with wide-band, real-time measurements (RTSA) (FieldFox B Models)

Measure with confidence from 4 to 50 GHz - precise measurements agree with benchtop results

Withstands your toughest working environments - rugged enough to meet MIL-specs

Weighs less than alternative solutions- millimeter-wave models 30% lighter than other handheld analyzers

Choose to configure as a handheld cable and antenna analyzer (CAT), vector network analyzer (VNA), spectrum analyzer (SA) or an all-in-one combination analyzer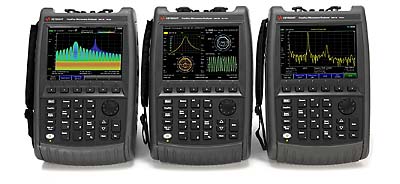 Model
Max. Freq.
Max. Analysis BW
Instrument Type
CAT Analyzer
SA
VNA
N9913A
4 GHz
10 MHz
Combo Analyzer
Yes
Optional
Optional
N9913B
4 GHz
100 MHz
Combo Analyzer
Yes
Optional
Optional
N9914A
6.5 GHz
10 MHz
Combo Analyzer
Yes
Optional
Optional
N9914B
6.5 GHz
100 MHz
Combo Analyzer
Yes
Optional
Optional
N9915A
9 GHz
10 MHz
Combo Analyzer
Yes
Optional
Optional
N9915B
9 GHz
100 MHz
Combo Analyzer
Yes
Optional
Optional
N9916A
14 GHz
10 MHz
Combo Analyzer
Yes
Optional
Optional
N9916B
14 GHz
100 MHz
Combo Analyzer
Yes
Optional
Optional
N9917A
18 GHz
10 MHz
Combo Analyzer
Yes
Optional
Optional
N9917B
18 GHz
100 MHz
Combo Analyzer
Yes
Optional
Optional
N9918A
26.5 GHz
10 MHz
Combo Analyzer
Yes
Optional
Optional
N9918B
26.5 GHz
100 MHz
Combo Analyzer
Yes
Optional
Optional
N9950A
32 GHz
10 MHz
Combo Analyzer
Yes
Optional
Optional
N9951A
44 GHz
10 MHz
Combo Analyzer
Yes
Optional
Optional
N9952A
50 GHz
10 MHz
Combo Analyzer
Yes
Optional
Optional
N9933B
4 GHz
100 MHz
Spectrum Analyzer
No
Yes
No
N9934B
6.5 GHz
100 MHz
Spectrum Analyzer
No
Yes
No
N9935A
9 GHz
10 MHz
Spectrum Analyzer
No
Yes
No
N9935B
9 GHz
100 MHz
Spectrum Analyzer
No
Yes
No
N9936A
14 GHz
10 MHz
Spectrum Analyzer
No
Yes
No
N9936B
14 GHz
100 MHz
Spectrum Analyzer
No
Yes
No
N9937A
18 GHz
10 MHz
Spectrum Analyzer
No
Yes
No
N9937B
18 GHz
100 MHz
Spectrum Analyzer
No
Yes
No
N9938A
26.5 GHz
10 MHz
Spectrum Analyzer
No
Yes
No
N9938B
26.5 GHz
100 MHz
Spectrum Analyzer
No
Yes
No
N9960A
32 GHz
10 MHz
Spectrum Analyzer
No
Yes
No
N9961A
44 GHz
100 MHz
Spectrum Analyzer
No
Yes
No
N9962A
50 GHz
10 MHz
Spectrum Analyzer
No
Yes
No
N9923A-104
N9923A-106
4 GHz
6 GHz
10 MHz
VNA
Optional
No
Yes
N9925A
9 GHz
10 MHz
VNA
Optional
No
Yes
N9926A
14 GHz
10 MHz
VNA
Optional
No
Yes
N9927A
18 GHz
10 MHz
VNA
Optional
No
Yes
N9928A
26.5 GHz
10 MHz
VNA
Optional
No
Yes
N9912A-104
N9912A-106
4 GHz
6 GHz
10 MHz
Combo Analyzer
Yes
Optional
Optional
HSA Handheld Spectrum Analyzers
Field testing made simple
If you are making measurements in the field, the Keysight N934X Handheld Spectrum Analyzer (HSA) family makes your job easier. They've got the features you need for operating in tough field environments, and their measurement performance gives you confidence the job's been done right. The HSAs let you automate routine tasks to save time and ensure consistent results.
Rugged design, without fans or vents, for tough field environments.

Clear screen viewing - day and night.

Optional applications for interference analysis and spectrum monitoring.

Flexible remote control via USB/LAN. Send SCPI commands through telnet/socket connection.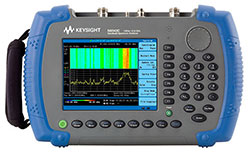 | Model | Max. Freq. | DANL | TOI | CAT Analyzer |
| --- | --- | --- | --- | --- |
| N9340B | 3 GHz | -158 dBm | 10 dBm | No |
| N9342C | 7 GHz | -164 dBm | 10 dBm | Optional |
| N9343C | 13.6 GHz | -155 dBm | 11 dBm | No |
| N9344C | 20 GHz | -155 dBm | 11 dBm | No |