Keysight E3631A Triple Output Power Supply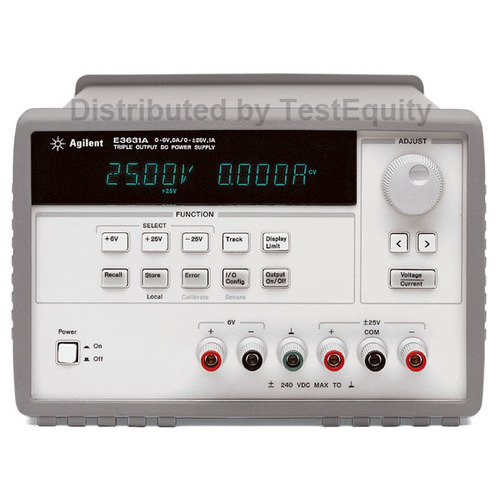 Watts:

80

Condition:

New

Drill Down Description:

Triple output Power Supply

Model:

E3631A

Quote Required:

No

Web Meta Description:

Keysight E3631A Triple Output Power Supply. Buy from an Authorized Keysight Distributor.

S3 Part Number:

12380.1
p> strong>span style="color:#FF0000; font-size:20px;">Discontinued/span>/strong> /p>
Products are limited to stock on hand.
Triple outputs
Output 1: 0 to 6 V, 0 to 5 A
Output 2: 0 to +25 V, 0 to 1 A
Output 3: 0 to -25 V, 0 to 1 A
80W output power
0.01% load and line regulation
Low ripple & noise
Dual voltage and current meters
Constant voltage, constant current
High accuracy and resolution
GPIB and RS-232 (SCPI) included
Three-year warranty
As a result of Keysight's introduction of the E36300 Series programmable DC power supply, Keysight will discontinue the E3631A on December 1, 2019. The last E3631A order date is November 30, 2019. See the next generation E36313A which includes a big 4.3" display, modern I/O - USB, LAN and GPIB, and improved features and capabilities.
E3631A Triple-Output Power Supply
This 80-watt triple output supply offers three independent 0 to +6 V / 5 A and 0 to ± 25 V / 1 A outputs. The 6V output is electrically isolated from the ± 25 V supply to minimize any interference between circuits under tests. The ±25 V outputs can be set to track each other.
Low Noise and Excellent Regulation
0.01% load and line regulation keep the outputs steady. Low normal mode noise assures clean power for precision circuitry while the low common mode current provides isolation from power line current injection. The linear regulator design makes all this possible.
Remote Interface
Comes standard with GPIB and RS-232 interfaces. You can program both voltage and current. In addition, you can monitor the output terminals for voltage and current, while a query command lets you read the programmed voltage and current. And programming is done in easy to use SCPI. If you are new to programming, the user manual will help you get started.
Front Panel Operation
The intuitive interface allows you to monitor both voltage and current simultaneously for any one output from the front panel on an easy to read vacuum fluorescent display. A knob allows you to quickly adjust the output at the resolution you need for precise and reliable results. You can save and recall up to three front-panel setups. An output On/Off button disconnects the output terminals, so you can safely adjust the outputs or work with your circuit.
Includes user's and service guides, calibration certs, and power cord.
NOTE: Counterfeit products have been found in the market. To ensure you are purchasing a Keysight product with the quality and performance you expect, purchase through Keysight authorized distribution partners only. TestEquity is a Keysight authorized distribution partner.