Chroma 6520 AC Power Source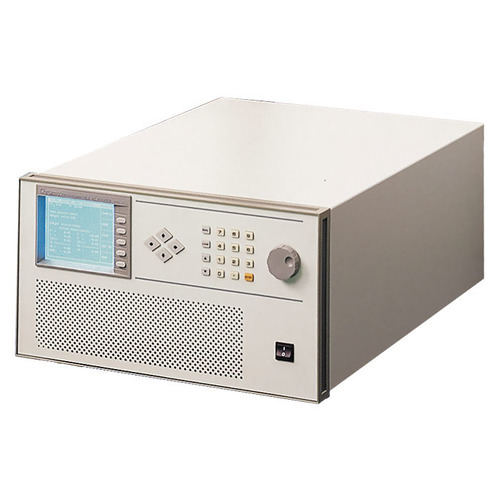 Condition:

New

Drill Down Description:

AC Power Source

Model:

6520

Quote Required:

Yes

Web Meta Description:

Find the product you need with our Chroma 6520 AC Power Source. We proudly offer best-in-class customer service and will help you find the solutions you need for your business.

S3 Part Number:

12868.1
0 to 300 Vrms, 15 Hz to 2 kHz output (6512, 6520, 6530)
0 to 500 Vrms, 45 Hz to 1 kHz output (6560)
0 to 300 Vrms, 45 Hz to 1 kHz output (6590)
Delivers full power with up to 3:1 Crest Factor loads
Direct Digital Synthesis waveform generation
Programmable sine, square, or distorted sine waveform output
Programmable voltage, current limit, frequency, phase, and distortion
Power line disturbance simulation
Harmonic waveform library with 30 factory presets
User programmable sequential output waveforms
Powerful measurement of Vrms, Irms, Ipk, power, frequency, crest factor, power factor, inrush current, VA, VAR
Input power factor correction
Built-in output isolation relays
User-definable power-on state
Optional GPIB, RS-232C, analog programming, Centronics printer port
SPECIAL ORDER ITEM - NON-CANCELLABLE, NON-RETURNABLE
Global AC power testing requirements demand a sophisticated AC Power Source that is capable of simulating a wide variety of AC line conditions, harmonic waveforms, accurate power measurement and analysis. The Chroma 6500 Series Programmable AC Power Source delivers a wide variety of normal/abnormal input conditions and measures the critical characteristics of the product under test. It can be used for R&D design characterization, production testing, and QA verification of commercial, industrial, and aerospace electronic products.
The Chroma 6500 Series delivers maximum rated power for any output voltage up to 300 VAC, and at any frequency between 15 Hz to 2,000 Hz. It is suitable for commercial applications (47-63Hz); for avionics, marine, military applications at 400 Hz; or for electrical motor, air-conditioner test applications at 20 Hz. All models generate very clean sine or square waveforms output with typical distortion less than 0.5%.
DDS Waveform Generator
The Chroma 6500 Series has a built-in Direct Digital Synthesis (DDS) Waveform Generator to provide user programmable high precision waveforms. For testing products under AC line distortion conditions, distorted sinewaves can be generated with 0% to 43% distortion and amplitude from 0% to 100%. It also can simulate power line disturbances such as cycle dropout, transient spike, brown out, phase angle, voltage and frequency ramp up/down, and more.
Comprehensive Waveform Library
30 preset harmonic waveforms are factory installed, enabling fast testing for compliance to AC line harmonic immunity standards. These waveforms include simulations of ferroresonant, inverter, line conditioner, line filter, triangle, pulse, and peak spike conditions. Additionally, there are 6 user-defined waveform buffers.
Transient Power Line Disturbance Simulation
Step and Pulse modes offer an easy method of executing single-step or continuous output changes. The output voltage, frequency, phase angle, and shape can be controlled in response to an input trigger generated from an internal or external event. This makes it easy to simulate conditions such as cycle dropout, transient spike, brown out, and ramp up. With List transient mode, up to 40 sequences of output settings can be executed in response to a trigger or by programmed dwell time without a computer. Output triggers can be generated at the beginning and end of each List loop setup to synchronize external events and to simulate power line disturbances for Voltage Dip and Variation to meet IEC1000-4-11.
Powerful Measurement Capability
The 6500 Series has a built-in 16-bit precision measurement circuit to offer precision and high speed measurement of Vrms, Irms, Ipk+, Ipk-, power, frequency, crest factor, power factor, inrush current, VA, and VAR. Using the high speed sampling circuit, it can present the measured voltage and current as a waveform on the LCD display for transient state analysis without the need for an oscilloscope.
Versatile Operation
The 6500 is easy to operate from the front panel keypad or the optional GPIB/RS-232C interface. The optional interface also has a Centronics port for printing measurement results to an HP LaserJet printer.
The 6512-6530 are single phase output sources rated from 1,200 VA to 3,000 VA.
The 6560-2 consists of two power converters and delivers 6,000 VA single phase output. The outputs can be configured in parallel or series, providing up to 500 V in series mode.
The 6590-2 consists of three power converters that can be configured for three phase or single phase output. It delivers 3,000 VA per phase in three phase mode or 9,000 VA in single phase mode.
Includes users manual. Input power cord not included. One year warranty.
Model
Max Power
Max Current RMS*
Input
150 V Range
300 V Range
6512
1,200 VA
1 Phase
12 A
6 A
190-250 V / 10 A
1 Phase
6520
2,000 VA
1 Phase
20 A
10 A
190-250 V / 15 A
1 Phase
6530
3,000 VA
1 Phase
30 A
15 A
190-250 V / 23 A
1 Phase
6560-2
6,000 VA
1 Phase
60 A
30 A
190-250 V / 35 A
3 Phase
6590-2
3 Phase
3,000 VA/Phase
30 A/Phase
15 A/Phase
190-250 V / 35 A
3 Phase
1 Phase
9,000 VA
90 A
45 A
*Note: Output Voltage x Output Current cannot exceed Max. Power VA rating.