Fluke 54 II B Digital Thermometer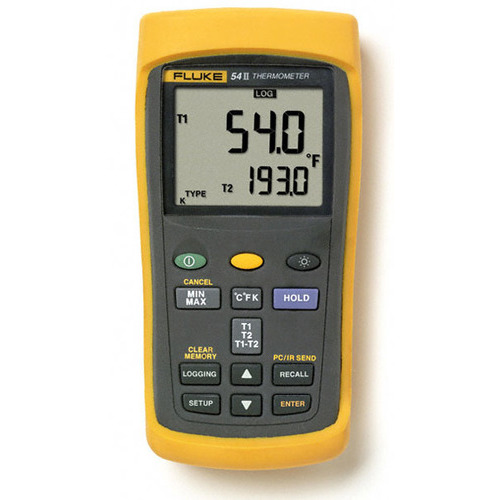 Condition:

New

Drill Down Description:

Digital Thermometer

Model:

54 II B

Quote Required:

No

Web Meta Description:

Find the product you need with our Fluke FLUKE 54 II B Digital Thermometer. We proudly offer best-in-class customer service and will help you find the solutions you need for your business.
54 II B (54-2 B)
Dual Input
Relative time clock on MIN, MAX, and AVG provides a time reference for major events
Electronic Offset function allows compensation of thermocouple errors to maximize overall accuracy
Measures J, K, T, E, R, S,and N-types of thermocouples (for a total of 7 different types)
Readout in ºC, ºF, or Kelvin (K)
Splash and dust resistant case protected by impact absorbing holster (included)
User-friendly front panel is easy to set up and operate
Sleep mode increases battery life; typical 1000-hour battery life
Battery door allows easy battery replacement without breaking the calibration seal
Optional ToolPak accessory allows the thermometer to hang from any metal object (with the rare earth magnet) or secure around a pipe (with hook-and-loop straps) for hands-free operation
Large backlit dual display shows any combination of T1, T2 (52 and 54 only), T1-T2 (52 and 54 only), plus MIN, MAX, or AVG.
Recall function allows logged data to be easily reviewed on the meter display
IR communication port allows data to be exported to optional FlukeView Forms® Temperature PC software for further analysis and graphing
New B version includes USB communication port allows data to be exported to optional FlukeView Forms® Temperature PC software for further analysis and graphing
Data Logging up to 500 points of data with user adjustable recording interval
Includes Two 80PK-1 bead probe thermocouples
3-Year warranty
The Fluke 54 Series II Thermometer: Laboratory Accuracy Wherever You Go
The Fluke 54 II contact thermometer offers fast response and laboratory accuracy (0.05% + 0.3°C) in a rugged, handheld test tool.
Years of customer feedback have resulted in many product enhancements. A fast response time allows you to see trends and get your measurement quickly. The exceptionally large dual display can be read from across the room, while the bright backlight allows clear viewing under dim lighting conditions. The shock-absorbing holster enhances the ruggedness of the thermometer such that it can withstand a 1-meter (3-foot) drop without breaking.
Your Choice of 10 Different Temperature Probes
Choose from 10 available probes for measuring air, surfaces, liquids, pipes and more.
See Available Temperature Probes >>
FlukeView Forms for Temperature Software >>

Produce professional-looking documents
In-depth analysis with records, charts, and graphs
Standard and customizable forms
Export data to other measurement analysis programs
Infrared interface between thermometer and PC makes data transfer fast and easy
Model
Inputs
Thermocouple Types
51
Single
J, K, T, E
52
Dual
J, K, T, E
53
Single
J, K, T, E, R, S, N
54
Dual
J, K, T, E, R, S, N
Models 53 II B and 54 II B have logging and PC interface capabilities.
Note: Fluke does not include a calibration certificate with this meter.