Keysight E4416A RF Power Meter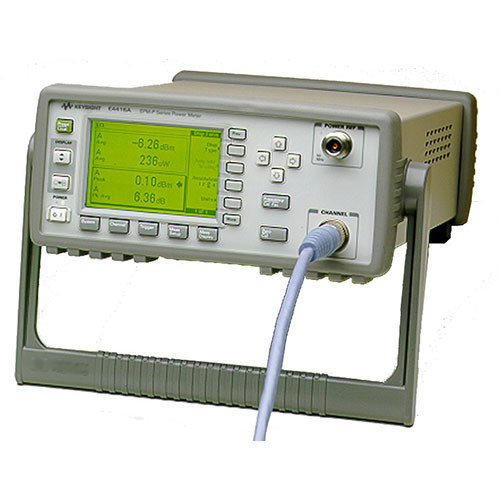 Condition:

Rental

Drill Down Description:

RF Power Meter

Model:

E4416A

Product Code:

Rental

Quote Required:

Yes

Web Meta Description:

Find the product you need with our Keysight E4416A RF Power Meter. We proudly offer best-in-class customer service and will help you find the solutions you need for your business.

S3 Part Number:

14772.9
Simultaneous peak, average and peak-to-average ratio power measurements
Time-gated power measurements
Up to 1,000 corrected readings per second over the GPIB
20 Msamples per second sampling rate for reliable continuous and single shot measurements on wide bandwidth signals
Compatible with all 8480 and E-Series power sensors
Easy-to-read display - large 1-line or 4-line numeric display, or trace display, or an analog display
8 pre-defined wireless configurations (GSM, EDGE, NADC, iDEN, Bluetooth, IS-95 CDMA, W-CDMA and cdma2000)
GPIB, RS-232/422
Three-year warranty
The Keysight E4416/17A EPM-P Series power meters provide peak, average, peak-to-average ratio and time-gated measurements, using the E9320 peak and average power sensors. The E4416/17A are compatible with all 8480 and E-series power sensors.
The E4416A is a single-channel power meter.
The E4417A is a true dual-channel power meter, which means that you get two simultaneous power readings on the display.
The E4416/17A do not have legacy power meter code compatibility because they are targeted at new applications such as time-gated power measurements. Code compatibility is however provided by the EPM Series power meters (E4418B and E4419B) as they are a direct replacement for the 436A, 437B and 438A.