Instek GPS-3303 Triple Output Power Supply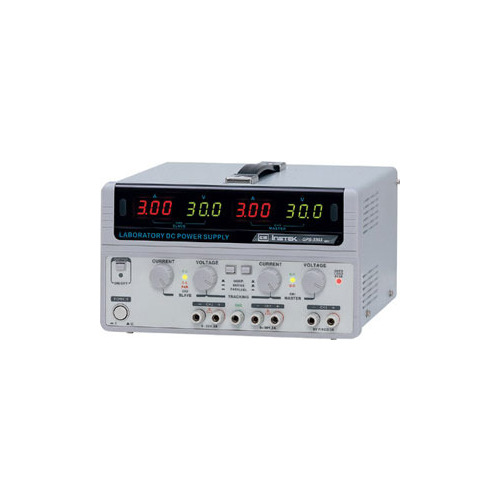 Watts:

195

Condition:

New

Drill Down Description:

Triple output Power Supply

Model:

GPS-3303

Product Code:

Instek

Quote Required:

No

Web Meta Description:

Instek GPS-3303 Triple Output Power Supply. Authorized Instek distributor, fast delivery from stock, competitive prices.
Check out the newer model GPE-3323 for better value, higher resolution, and superior functionality.
3 Independent Isolated Outputs
Main Outputs: 0-30V, 0-3A (X2)
Output 3: Fixed 5V, 3A
Four 3-Digit LED Displays
0.01% Load and Line Regulation
Low Ripple and Noise
Tracking Operation and Auto Series/Parallel Operation
Output ON/OFF Switch
Output Voltage and Current Setting When Output Disable
Fan Speed Control Circuit to Minimize Fan Noise
Over Load and Reverse Polarity Protection
The two main outputs on all models are independently adjustable from 0 to 30 V for constant voltage mode, and 0 to 3 A for constant current mode. They can also be operated in series (for 0 to 60 V or 0 to ±30 V at 0-3 A) or parallel (for 0 to 30 V, 0 to 6 A) tracking modes.
The triple-output Instek GPS-3303 features one auxiliary fixed 5 V output with a fixed 3 A current limit.
Four LED meters provide two sets of simultaneous voltage and current display (main outputs only on GPS-3303).