Tektronix TPS2024B Digital Storage Oscilloscope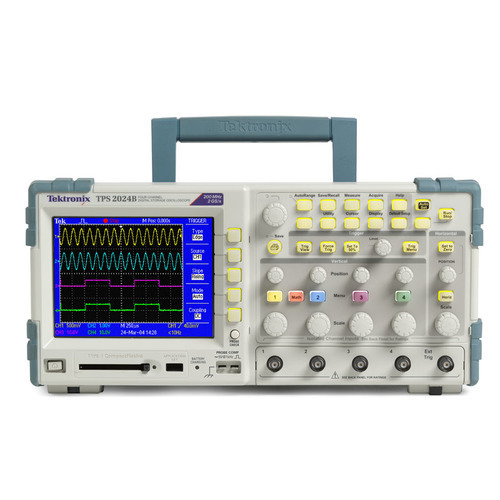 Bandwidth:

200 MHz

Analog Channels:

4 Chan

Condition:

New

Drill Down Description:

Digital Storage Oscilloscope

Keywords:

Tektronix TPS2024B,Tektronix,TPS2024B,Digital Storage Oscilloscope

Model:

TPS2024B

Quote Required:

No

Web Meta Description:

Tektronix TPS2024B Portable 200 MHz, 4-Channel Digital Storage Oscilloscope
TPS2024B: 200 MHz Bandwidths
TPS2024B: 4 Fully Isolated and Floating Channels, plus Isolated External Trigger
Sample Rates up to 2 GS/s Real Time
8 Hours of Continuous Battery Operation with Two Batteries Installed, Hot Swappable for Virtually Unlimited Freedom from AC Line Power
Optional Power Application Software offers the Broadest Range of Power Measurements at its Price Point
Quickly Document and Analyze Measurement Results with OpenChoice® Software or Integrated CompactFlash® Mass Storage
FFT Standard on All Models
Advanced Triggers to Quickly Capture the Event of Interest
Traditional, Analog-style Knobs and Multilanguage User Interface for Easy Operation
Quick Setup and Operation with Autoset Menu, Autorange, Waveform and Setup Memories, and Built-in, Context-sensitive Help
Backlit Menu Buttons for High Visibility
11 of the Most Critical Automatic Waveform Measurements
3-Year warranty
TPS2000B Series Oscilloscopes for Powerful Productivity from Bench to Field
The TPS2000B Series offers a distinctive range of capabilities in an oscilloscope with controls and menus you will find familiar and easy to use. Available in 2- or 4-channel versions, the TPS2000B Series with IsolatedChannel™ technology provides isolation from ground and isolation between channels allowing you to take measurements with less worry about damaging circuitry. Battery power comes standard, making it a natural choice for field applications. For work on power electronics, optional software integrates commonly needed power system measurements into the instrument, speeding up power analysis and troubleshooting.
Make Floating and Differential Measurements — Quickly, Accurately, Affordably
Unintentionally grounding a circuit under test is a common cause of poor measurement results and circuit damage. Connecting two or more grounded probes can cause ground loops, and if the current is high enough can result in ruined components and equipment. Most importantly, taking floating measurements without the proper instruments and probes can pose a safety hazard.
Tektronix IsolatedChannel technology simplifies floating measurements. Unlike ground-referenced oscilloscopes, the TPS2000B input connector shells are isolated from each other and from earth ground. Within the specified 600 VRMS maximum float voltage, IsolatedChannel technology keeps current from flowing between the TPS2000B input BNC shells or from any BNC shell to earth.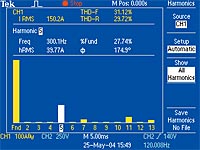 Conduct harmonic distortion measurements with TPS2PWR1 software.
Speed the Design and Test of Industrial Power Systems and Circuits
From mobile phones to industrial motor drives, power conversion technology has enabled significant advances in size, performance, and energy efficiency. But even the most basic task of viewing a converter's input and output is complicated by multiple voltage references. Multiple references also make it challenging to view signals from control circuits and power circuits at the same time. Using ground-referenced oscilloscopes in these applications, without appropriate differential probes, can damage circuits and produce bad measurements. For debugging power conversion electronics, IsolatedChannel technology reduces the risk of damage and unintended circuit interactions.
For performing power system measurements, TPS2PWR1 power application software is available as an option for the TPS2000B. It provides advanced power measurements right on the oscilloscope, at an entry-level price.
For dialing in the performance of switching components, the power application software adds important measurements to the TPS2000B, including automatic switching loss, dv/dt, and di/dt cursor measurements.
Quickly Debug and Characterize Signals with DRT Sampling Technology
Characterize a wide range of signal types on up to four channels simultaneously with the TPS2000B Series Digital Real-Time (DRT) sampling technology. This acquisition technology makes it possible to capture high-frequency events, such as glitches and edge anomalies, that eludes other oscilloscopes in its class, so that you can be sure to get an accurate view of your signal.
Easily Analyze and Document Your Measurement Results
Quickly reveal signal interference, crosstalk, and the effects of vibration with frequency domain analysis using the TPS2000B Series Fast Fourier Transform (FFT) feature. Then, easily document your measurement results with the integrated CompactFlash® mass storage.
To capture, save, and analyze your measurement results on your PC, the included OpenChoice® PC software can be used. Every TPS2000B Series also ships with a free copy of the special Tektronix Edition of National Instrument's LabVIEW SignalExpress™ software for basic instrument control, data logging, and analysis.
Correlate Your Measurements from Bench to Lab to Field
Use the TPS2000B Series on your bench, in the lab, or in the field, with the industry's longest continuous battery life — 8 hours and beyond — in a highly mobile package. Enjoy virtually unlimited freedom from an AC power source with hot-swappable batteries.
Optimize Your Productivity
The oscilloscope has a front-panel layout that most users will find familiar. Each channel has a dedicated set of scale and position controls. Reduce your measurement time with features like autoset, autorange, automatic measurements, probe check wizard, and context-sensitive help. Backlit menu buttons help you work in a variety of challenging environments — from bright daylight to dimly lit areas.
Includes: OpenChoice® software and the special Tektronix Edition of National Instrument's LabVIEW SignalExpress™, TPP0201 Probes (1 per channel), Battery, USB-RS-232 Cable, User's manual, AC Adapter, NIM/NIST Certificate, Front Protective Cover.
Features
TPS2012B
TPS2014B
TPS2024B
Isolated Channels
2
4
4
Bandwidth* (MHz)
100
100
200
Sample Rate (GS/s) per Channel
1.0
1.0
2.0
Record Length
2.5k points
Battery Operation
Capacity for two hot-swappable battery packs
Automatic Measurements
11
* Bandwidth is 20 MHz at 2 mV/div, all models.
Please see Data Sheet for complete specifications