Keysight U2651A 64 Output USB Digital I/O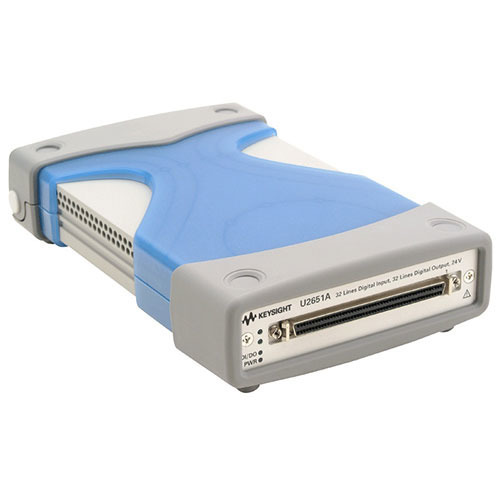 Condition:

New

Drill Down Description:

64 Output USB Digital I/O

Model:

U2651A

Quote Required:

No

Web Meta Description:

Keysight U2651A 32 Input, 32 Output USB Digital I/O. TestEquity offers various delivery options to help meet your deadlines.
High-speed USB 2.0, USBTMC-USB488 standard (compatible with Microsoft® Windows® operating systems)
Functions as a standalone or modular unit
Interrupt function
Virtual Port grouping function
High performance
- 32 Input lines and 32 Output lines
- Isolation Protection of 1250Vrms
- Input voltage: 10 to 24V
- Output voltage: 35V max
A BenchVue software license (BV0025B) is now included with your instrument. BenchVue makes it simple to connect, control instruments, and automate test sequences
Keysight U2651A USB Digital I/O is a cost-effective device with its offering of 64 opto-isolated digital lines.
Giving users more flexibility, the U2651A is compatible with a wide range of application development environments such as Keysight VEE, MATLAB® R2007a, NI LabVIEW and Microsoft® Visual Studio®.
The U2651A works together with an optional U2903A or U2904A terminal block for easy connections.
With high voltage protection of 1250Vrms, the U2651A is ideal for industrial automation and control.