B&K Precision XLN8018 Programmable DC Power Supply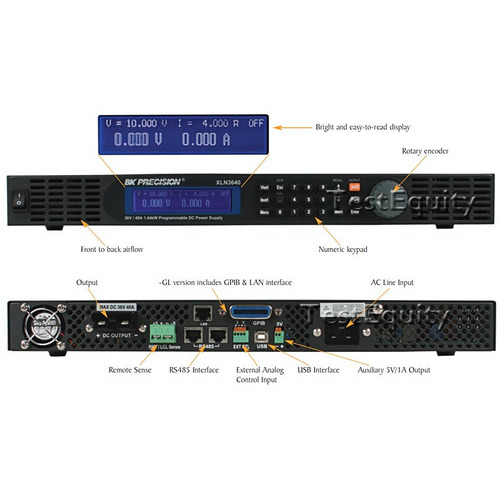 Drill Down Description:

Programmable DC Power Supply

Model:

XLN8018

Keywords:

XLN8018-GL, XLN8018

Web Meta Description:

Explore our options for a B&K Precision XLN8018-GL Programmable DC Power Supply. With various sizes and selections, you are sure to find the perfect solution at TestEquity.

Quote Required:

No

Condition:

New
XLN8018-GL

0-80V, 0-18A, 1.44 kW
Compact, high density, 1U package
Power Factor Correction (PFC) >0.99 (Full load)
USB Interface (standard)
GPIB and LAN (XLN8018-GL)
XLN8018-GL connects with iPad, iPhone with B&K's Free pwrApp
External analog programming interface
Master/slave mode for series & parallel connection of up to 4 units
Control up to 31 power supplies from one PC synchronized via the internal RS-485 interface
Application software providing remote control capabilities included
Programmable voltage and current slew rate for "soft starting" of loads
LabVIEW drivers available
5 V/1 A fixed output for auxiliary output
Input Voltage: 100-240 VAC / 47 Hz-63 Hz
3-Year Warranty
80V / 18A / 1.44kW High-current, Programmable DC Power Source
The XLN8018 / XLN8018-GL programmable DC power supplies deliver up to 1440 watts of clean power on a single output. The compact 1U high 19 inch wide supply was designed to meet the needs of both system integrators and bench top users. Cost effective computer interfaces combined with fast average command processing times of less than 50 ms make the XLN series ideal for ATE applications. Bench top users will benefit from the built-in voltage and current meters displaying setting and output values concurrently, as well as an intuitive user interface with full keypad and rotary knob.
The XLN8018 is perfectly suited for ATE systems integration, product design and development, product QC and burn-in testing, production, electro-plating and other applications requiring high, reliable power.
XLN series power supplies with the -GL option (GPIB/LAN) provide a built-in Web Server. This allows users to configure, control or monitor the basic settings of the power supply from a remote computer using a Web browser such as Microsoft® Internet Explorer or Mozilla® Firefox. Connect to the user-defined IP address to view the welcome page (Compatible with Java-enabled browsers).
B&K Precision pwrApp: Wireless Control for XLN-GL DC Power Supplies
B&K's new iPhone/iPad/iTouch app, the pwrApp, allows XLN-GL series users to monitor and control network-connected (via WLAN) power supplies over local wireless networks. The app supports all XLN-GL power supply functions, plus additional monitoring functions and a simulation mode. Additional features include live visual monitoring and interactive power supply control, visual data graphing and audible trigger alarms within the app. Get more information and download the free app .
Includes: User Manual, AC Power Cord, Rack-mount Kit, Test Report & Certificate of Calibration and Terminal Blocks for Output Connectors.