Tektronix TDS2014C Digital Storage Oscilloscope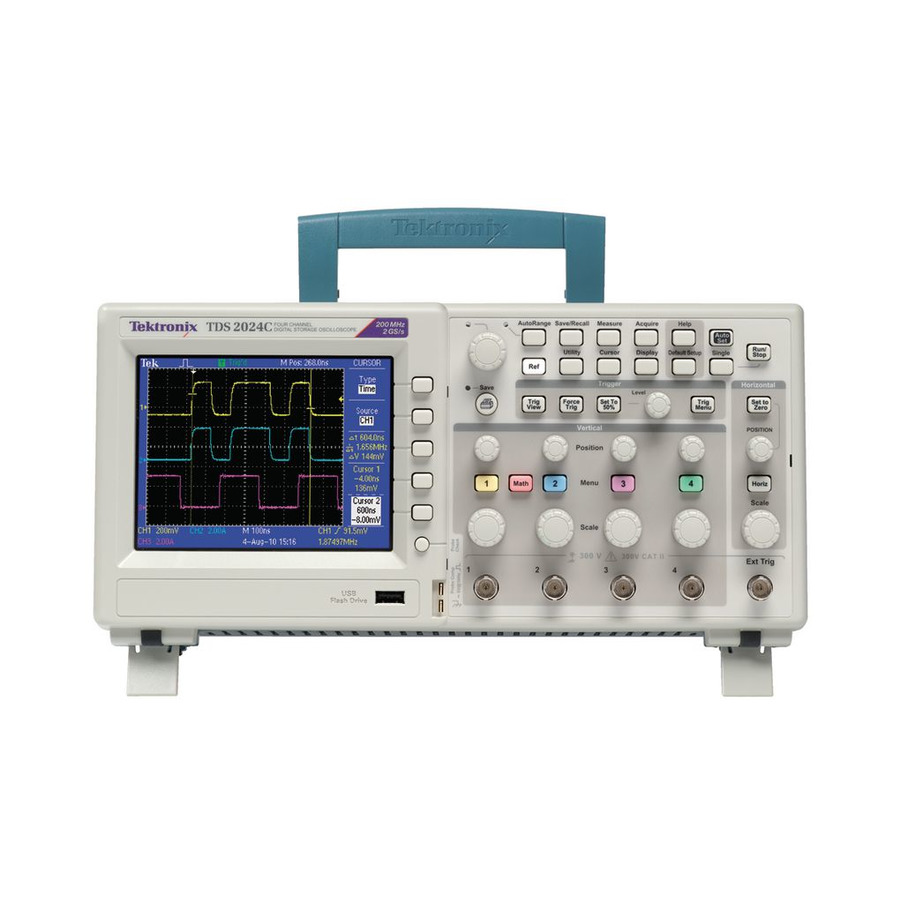 Drill Down Description:

Digital Storage Oscilloscope

Model:

TDS2014C

Bandwidth:

100 MHz

Web Meta Description:

If you are searching for a Tektronix TDS2014C Digital Storage Oscilloscope, TestEquity can provide the solution you need. We carry the best electronic test & measurement solutions from top manufacture

Quote Required:

No

Condition:

New
100 MHz Bandwidth
4-channel
2 GS/s Sample Rate on All Channels
2.5k point Record Length on All Channels
Advanced Triggers including Pulse Width and Line-selectable Video
16 Automated Measurements, and FFT Analysis
Built-in Waveform Limit Testing
Automated, Extended Data Logging Feature
Autoset and Signal Auto-ranging
Built-in Context-sensitive Help, Multiple-language User Interface
Probe Check Wizard
5.7 in. (144 mm) Active TFT Color Display
Small Footprint and Lightweight Only 4.9" Deep and 4.4 pounds
USB 2.0 Connectivity, Host and Device Ports
Limited Lifetime Warranty
Tektronix TDS2014C Digitizing Oscilloscope
Performance You Need at a Price You Can Afford
The TDS2014C Digital Storage Oscilloscope provides you with affordable performance in a compact design. Packed with standard features - including USB connectivity, 16 automated measurements, limit testing, data logging, and context-sensitive help - the TDS2004C digital oscilloscope helps you get more done, in less time.
Digital Precision for Accurate Measurements
With 100 MHz bandwidth and 2 GS/s sample rate, no other digital storage oscilloscope offers as much bandwidth and sample rate for the price. Tektronix proprietary sampling technology provides real-time sampling with a minimum of 10X oversampling on all channels, all the time to accurately capture your signals. Sampling performance is not reduced when using multiple channels.
Critical Tools for Troubleshooting Your Device
Advanced triggers - rising/falling edge, pulse width, and video - help you quickly isolate your signals of interest. Once you;ve captured a signal, advanced math capabilities and automated measurements can speed your analysis. Quickly perform an FFT or add, subtract, or multiply waveforms. Sixteen automated measurements quickly and reliably calculate important signal characteristics such as frequency or rise time, while the built-in Limit Test function enables you to easily identify problems in your signal.
Flexible Data Transfer
The USB host port on the front panel enables you to save your instrument settings, screenshots, and waveform data in a flash. The built-in data logging feature means you can set up your oscilloscope to save user-specified triggered waveforms to a USB memory device for up to 8 hours.
Easy PC Connectivity
Easily capture, save, and analyze measurements results by connecting to your PC with the rear-panel USB device port and the included copy of OpenChoice PC Communications Software. Simply pull screen images and waveform data into the stand-alone desktop application or directly into Microsoft Word and Excel. Alternatively, if you prefer not to use your PC, you can simply print your image directly to any PictBridge-compatible printer.

Lifetime WarrantyLifetime Warranty
Depend on Tektronix to provide you with performance you can count on. In addition to industry leading service and support, every TDS2000C Series oscilloscope comes backed with a Lifetime Warranty as standard. (Limitations apply. For terms and conditions, click here.)
| | |
| --- | --- |
| Display Type: | 5.7 in. Active TFT Color Display |
| Bandwidth: | 100 MHz |
| Channels: | 4 |
| Sample Rate: | 2 GS/s |
| Record Length: | 2.5k points at all time bases |
| Connectivity: | USB host port on front panel supports USB flash drives. USB device port on back of instrument supports connection to PC and all PictBridge-compatible printers. Optional GPIB with TEK-USB-488 adapter. |
| Warranty: | Limited Lifetime, excluding probes and accessories (click here for details) |
What's new in the TDS2000C compared to the TDS2000B
NEW Waveform Limit Testing
Monitor signal changes and output pass or fail results
Quick and easy template definition
Record multiple failed waveforms to USB memory device in waveform and/or screen image formats
Source can be any input channel or math waveform
User specified stop condition of elapsed time, waveforms or violations
NEW Data Logging
Save triggered waveforms together with time stamps to USB memory device
Source can be any input channel or math waveform
User defined duration - from 30 minutes to 8 hours in 30 minute steps
Waveform storage determined by time base setting, trigger rate and USB write time
NEW Expanded Measurement Set
5 new measurements added

RMS measurement
Cursor RMS measurement
Duty cycle measurement
Delay measurement
Phase measurement

Total of 16 measurements plus frequency counter
Measure active channel or math waveform
On-screen cursors help make quick time and voltage readings
NEW TDS2000C Passive Probes: TPP0x01 Series
Reduced Circuit Loading

Input capacitance is only 12 pF
It is the lowest loading in $100 passive probe market

Small Form Factor

Sleeker design (3.8mm probe head)
Allows for probing in tight spaces and better visibility of the points being measured
It is the smallest form factor in $100 passive probe market

UL Safety rating

It is the only probe that meet UL strict guidelines for product safety in $100 passive probe market

Sharp tip

Has a longer sharper tip to probe the finer geometry parts