Anritsu MS2713E Spectrum Master Handheld Spectrum Analyzer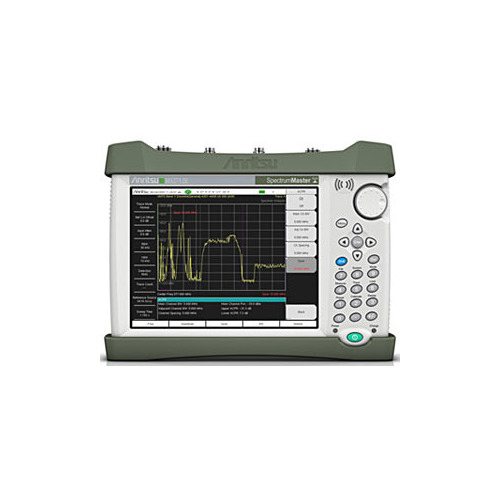 Drill Down Description:

Spectrum Master Handheld Spectrum Analyzer

Model:

MS2713E

Web Meta Description:

Explore our options for a Anritsu MS2713E Spectrum Master Handheld Spectrum Analyzer. With various sizes and selections, you are sure to find the perfect solution at TestEquity.

Quote Required:

No

Condition:

New

Accessories Sort Priority:

0

Multiple Sale Qty:

1

UNSPSC:

4111000000
This is the base model and does not include any options. Please select from the "options" tab.
9 kHz to 4 GHz
One-button measurements: ACPR, Channel Power, Field Strength, Occupied BW, AM/FM/SSB Demod
Interference Analyzer: Spectrogram, Signal Strength, RSSI, Signal ID, Interference Mapping
Indoor and Outdoor Coverage Mapping
3GPP Signal Analyzers: LTE, GSM/EDGE, W-CDMA/HSPA+, TD-SCDMA/HSPA+
3GPP2 Signal Analyzers: cdmaONE/CDMA2000 1X, CDMA2000 1xEV-DO
IEEE 802.16 Signal Analyzers: Fixed WiMAX, Mobile WiMAX
ISDB-T Signal Analyzer
P25 and NXDN Signal Analyzers
Detection methods: Peak, RMS, Negative, Sample, Quasi-peak
Save-on-event: Automatically saves a sweep when crossing a limit line or at the end of the sweep.
Gated sweep: View pulsed or burst signals only when they are on, or off.
Three hours of battery life
USB and Optional Ethernet for data transfer and instrument control
Line Sweep Tools
8.4-inch daylight viewable touchscreen display
MS2713E
DANL: > -162 dBm in 10 Hz RBW
Dynamic range: > 95 dB in 10 Hz RBW
+33 dBm TOI typical @ 6 GHz
< Phase Noise: -100 dBc/Hz @ 10 kHz at 1 GHz
Frequency accuracy: < ± 50 ppb with GPS on
Anritsu's new Spectrum Master has been designed for technicians, installers, field radio frequency (RF) engineers, and contractors who struggle with both keeping track of the growing number of interfering signals and assessing signal quality on a wide range of increasingly complex signals. Easy-to-use, integrated and high performing, the Spectrum Master helps users address those challenges and more. Its feature-rich and compact design helps users comply to regulatory requirements, manage and maximize efficiency, improve system up-time, and increase revenue - all in a rugged and field-proven device designed to withstand even the most punishing conditions. This next generation of Anritsu's best-in-class Spectrum Master series is ideal for spectrum monitoring, interference analysis, RF and microwave measurements, field strength measurements, transmitter spectrum analysis, electromagnetic field strength, signal strength mapping, and overall field analysis of cellular 2G/3G/4G, land mobile radio, Wi-Fi, and broadcast signals.
DESIGNED FOR FIELD USE
The Spectrum Master was designed specifically for field environments. Weighing less than 3.45 kg, it is small compact and easy to carry. Its field replaceable Li-Ion battery typically lasts for more than 3 hours, and a new bright 8.4-inch color display provides visibility even in broad daylight. With an operating temperature range from -10°C to 55°C, a rugged case and splash proof design, the Spectrum Master works in the most extreme weather conditions with guaranteed performance anywhere and anytime.
INTEGRATED SOLUTION
The Spectrum Master is a multifunctional instrument that eliminates the need for you to carry and learn multiple instruments. It can be configured to include a broad range of parameters, including a 4 GHz spectrum analyzer, an interference analyzer with signal mapping, coverage mapping, 2-port transmission measurement with built-in 32V bias tee, channel scanner, power meter, high accuracy power meter, AM/FM/PM Analyzer, and GPS receiver for time/location stamping and accuracy enhancements.
Includes: Handheld Instruments Documentation Disc, Spectrum Master User Guide, Soft Carrying Case, Master Software Tools (MST) CD Disc, Anritsu Tool Box with Line Sweep Tools (LST) DVD Disc, Rechargeable Li-Ion Battery, AC-DC Adapter, Automotive Cigarette Lighter Adapter, USB A/5-pin mini-B Cable (10 ft), One Year Warranty (Including battery, firmware, and software), Certificate of Calibration and Conformance.