Keysight B2901A Precision Source/Measure Unit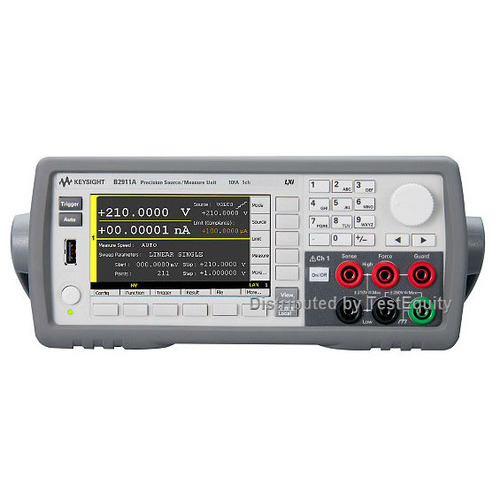 Drill Down Description:

Precision Source/Measure Unit

Model:

B2901A

Web Meta Description:

Explore our options for a Keysight B2901A Precision Source/Measure Unit. With various sizes and selections, you are sure to find the perfect solution at TestEquity.

Quote Required:

No

Condition:

New

Accessories Sort Priority:

0

Multiple Sale Qty:

1

UNSPSC:

4111000000
B2901A & B2902A

1 μV / 1 pA Sourcing resolution (5-1/2 digits)
100 nV / 100 fA Measurement resolution (5-1/2 digits)

B2911A & B2912A

100 nV / 10 fA Sourcing resolution (6-1/2 digits)
100 nV / 10 fA Measurement resolution (6-1/2 digits)

Wide coverage up to 210 V, 3 A DC/10.5 A pulse
Color 4.3" front panel displays both graphical and numerical view modes
High resolution arbitrary waveform generation (AWG) and list sweep functions (10 μs minimum interval)
High speed digitizing capability (maximum 100000 points/s sample rate)
Free application software to facilitate PC -based instrument control
GPIB, USB, LAN (LXI-C)
Switch Easily Between a Current Source, a Voltage Source, a Current Meter and a Voltage Meter
The Keysight B2900A Series of Precision Source/Measure Units are compact and cost-effective bench-top Source/Measure Units (SMUs). They have the capability to output (source) and measure both voltage and current — making these instruments ideal for a wide variety of IV (current versus voltage) measurement tasks that require both high resolution and accuracy.
The Keysight B2901A, B2902A, B2911A and B2912A SMUs provide best-in-class performance for a modest price. They have broad voltage (210 V) and current (3 A DC and 10.5 A pulsed) sourcing capability, excellent precision (minimum 10 fA/100 nV sourcing and measuring resolution) and possess a superior color LCD graphical user interface. In addition, several task-based viewing modes dramatically improve productivity for test, debug and characterization.
Ideal for Testing Semiconductors and Active/Passive Components
The B2900 series has a broad application range that spans from R&D and education uses to industrial development, test and manufacturing. Moreover, they work equally well as either standalone or system components.
B2901A
B2902A
B2911A
B2912A
Number of channels
1
2
1
2
Max
output
Voltage
210 V
210 V
210 V
210 V
Current
DC
3.03 A
3.03 A
3.03 A
3.03 A
Pulsed
10.5 A
10.5 A
10.5 A
10.5 A
Power
31.8 W
31.8 W
31.8 W
31.8 W
Maximum Source Digits
5-1/2
5-1/2
6-1/2
6-1/2
Min. List sweep interval
20 μs
20 μs
10 μs
10 μs
View Modes *
S, G
S, D, G
S, G, R
S, D, G, R
* S = Single, D = Dual, G = Graph, R = Roll

| | |
| --- | --- |
| Single View | Dual View |
| Graph View | Roll View |

B2900A Source/Measure Units Viewing Modes
Includes: Power cable, USB cable, Quick Reference (English), Product Reference CD-ROM (including PDF manuals, Keysight B2900A Quick I/V, Measurement Software and drivers), Keysight I/O Library Suite, EasyEXPERT group+ Software.
EasyEXPERT group+ Software
Keysight EasyEXPERT group+ provides a powerful IV parametric characterization solution for a wide range of devices and materials. It has an intuitive mouse and keyboard driven graphical user interface that simplifies common characterization tasks such as test setup and execution, data analysis, data management/protection, etc. Moreover, since it can support up to eight SMU channels (or four 2-channel SMU units) EasyEXPERT group+ makes it easy to characterize multi-terminal devices.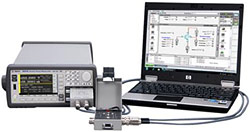 EasyEXPERT provides many powerful features and capabilities:
A large library of furnished application tests organized by device type and technology (i.e. CMOS, bipolar, nanotech, organic, solar cells, etc.)
Extensive numerical and graphical analysis capabilities
A curve tracer emulation capability (using the mouse wheel)
The ability to control other instruments and coordinate testing with a wafer prober via GPIB
VBA Sample Program B2900A Forward Biased IV Measurement of Photovoltaic Cells
A Sample VBA program for Microsoft® Excel enables the B2900A Series user to make a forward biased IV measurement and estimate the basic static parameters of photovoltaic cells.
A BenchVue software license (BV0003B) is now included with your instrument. BenchVue makes it simple to connect, control instruments, and automate test sequences.