Chroma 61503 AC Power Source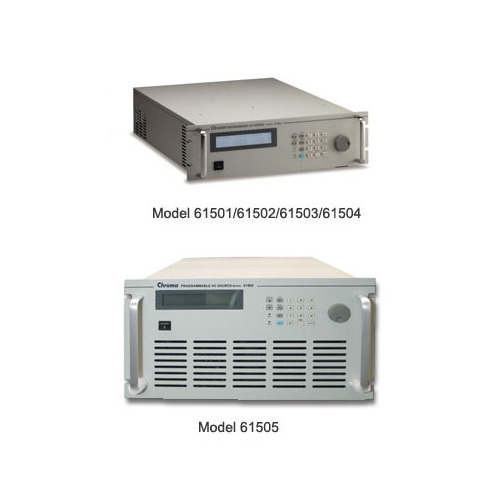 Drill Down Description:

AC Power Source

Model:

61503

Web Meta Description:

Explore our options for a Chroma 61503 AC Power Source. With various sizes and selections, you are sure to find the perfect solution at TestEquity.

Quote Required:

Yes

Condition:

New

Accessories Sort Priority:

0

Multiple Sale Qty:

1

UNSPSC:

4111000000
Five models from 500 VA to 4000 VA
Provides 0-300 VAC or 0-424 VDC output from a single source
Delivers full power with up to 6:1 Crest Factor loads
DC/15 Hz to 1 kHz
Ultra-pure/low distortion output for designed for commercial applications
Smaller, lighter and expanding setting and read-back functions
Power amplifier mode
Programmable voltage, current limit
Optional GPIB and RS-232C interface
SPECIAL ORDER ITEM - NON-CANCELLABLE, NON-RETURNABLE
The 61500 series defines a new standard of lower power AC power sources. Features included are power line disturbance simulation, programmable output impedance, comprehensive measurement functions and wave shape synthesis. Ideal for avionics and pre-compliance testing. Additional features include:
Compact size and weight attributable to advance PWM technology
Programmable slew rate setting for changing voltage and frequency
Low output impedance for testing IEC 61000-3-2 (61505)
Programmable output impedance for testing IEC 61000-3-3
Comprehensive measurement capability, including current harmonics
High output current crest factor, ideal for inrush current testing
TTL signal which indicates output transient
Analog programmable interface
3 units can be combined for 3-phase power output
Advanced PWM Technology
Chroma AC power source 61500 series is able to provide the highest power density by its superior PWM mode design and the incorporated power factor correction function.
AC/ DC Output Capability
Chroma AC power source 61500 series provide output DC component for simulating AC voltage with DC offset condition. It can test the unbalance input current for rectified load. Users also can use an optional DC noise filter to get low noise and good stability DC voltage for testing.
Comprehensive Measurements
Chroma AC power source 61500 series has built in a 16-bit measurement circuit and firmware utilities to measure the steady and transient responses of true RMS voltage, current, true power, VA (apparent power), VAR (reactive power), power factor, current crest factor, peak repetitive current and inrush current. Using the advanced DSP technology, it can measure up to 40 orders of current harmonics. It makes 61500 series not only a power source but also a powerful analyzer.


Power Line Disturbance Simulation
In addition to the steady output voltage and frequency programming, Chroma AC power source 61500 series provides powerful functions to simulate all kinds of power line disturbance conditions. The STEP and PULSE modes offer an easy and convenient method to execute a single step or continuous output changes. The changes may be triggered by an internal or external event. With this capability, it's easy to simulate power line disturbances such as cycle dropout, transient spike, brown out and etc.
The LIST Mode extends this function for more complex waveform generator needs. Up to 100 sequences with different start-end conditions, that can perform almost any waveform by AC and DC components. It also allows users to synchronize external events as well as measurement devices with output changes.


Programmable Output Impedance
Chroma's 61500 series models allow users to program output impedance. A current feedback control circuit makes the output voltage changed with the load. This feature is suitable for IEC 61000-3-3 Flicker tests or other test condition with particular output impedance requirement. It provides users a convenient and cost effective way to implement the reference impedance.
3-Phase Mode & Series Connecting For High Voltage Output
The 61500 series models provide a 3-Phase Mode to let users connect three units for 3-phase output application. Users can set a unit as the Master, and set others the phase angle 120/240 degree as the Slaves. The Master unit will keep on Fixed mode and send a signal for synchronizing Slaves.
Arbitrary Power Amplifier
The external voltage programming input of Chroma AC power source 61500 series allows users to feed any AC+DC waveform from an arbitrary signal generator. And amplify the signal accordingly. It can be used to simulate the real mains supply waveforms observed in the field.
High Output Current Crest Factor & Turn On / Off Phase Angle Control
Chroma's AC power source 61500 series models are capable of providing high output current crest factor (Max. 6). It delivers sufficient transient power required for testing most of the rectified input type power circuits. The programmable turn on (off) phase angle control makes these AC source units ideal for inrush current test.
Harmonics, Interharmonics Synthesis
Traditional type of AC source only allows users to composite integer orders of harmonic components into a periodic harmonics distortion waveform. IEC 61000-4-13 standard requires not only the harmonics waveform, but also interharmonics simulation. This means the fundamental frequency will incorporate with components frequencies between harmonics frequencies. The 61500 series' AC power source models uses advanced DSP technology to synthesis the harmonics and interharmonics waveforms. Therefore, they are capable of generating a non-periodic harmonic distorted waveform to perform IEC 61000-4-13 compliance test with an easy-use software.
Aerospace Testing Software for AC Power
With the powerful programming capability, AC power source 61500 series can be used to test aircraft electrical equipment. Chroma also provides software for AC power part test of standard RTCA DO-160D, MIL-STD-704E and ABD0100.


The Softpanel
A graphical user interface is available for the 61500 Series Programmable AC Power Sources. The Softpanel provides extraordinary capability and convenience to user for delivering control to the unit. The 61500 high power series' Softpanel is designed specifically for offering users to control the AC source by applying user friendly interface configured in a graphical, instrument like settings.