Instek GDS-1102-U Digital Storage Oscilloscope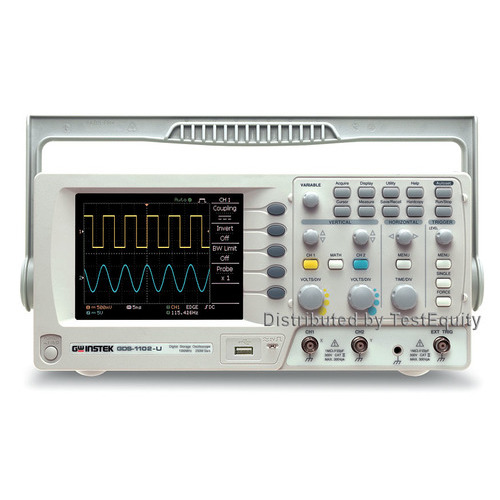 Condition:

New

Drill Down Description:

Digital Storage Oscilloscope

Model:

GDS-1102-U

Product Code:

Instek

Quote Required:

No

Web Meta Description:

Instek GDS-1102-U: 100MHz, 2-channel DSO

S3 Part Number:

20944.1
100/70/50 MHz Bandwidths with 2 Input Channels
250MSa/s Real-Time and 25GSa/s Equivalent-Time Sampling
4k Memory Length per Channel
Peak Detect as Fast as 10ns
Save/Recall of 15 Front Panel Settings & Waveforms
5.7" TFT Color Display
19 Auto Measurements
Arithmetic Operators - Add, Subtract, FFT
USB Port for PC Connection
Data Logger
Limited Lifetime Warranty
The GDS-1000-U Series offers 100MHz, 70MHz and 50MHz digital storage oscilloscopes with 5.7" color TFT LCD displays. With dual sampling modes, a 4,000 point record length, a real-time sampling rate of 250MSa/s and an ET sampling rate of 25GSa/s, the GDS-1000-U Series DSO provides an excellent balance of performance between memory length and sampling speed. Other major features include user-friendly menu tree operations, compact size, ergonomic design, USB host for PC connectivity and USB device port support. The GDS-1000-U Series is designed to meet today's most demanding engineering requirements and budgets.
GDS-1000-U Series Digital Storage Oscilloscopes

GDS-1052-U
GDS-1072-U
GDS-1102-U
Channels
2
2
2
Bandwidth
DC to 50MHz (-3dB)
DC to 70MHz (-3dB)
DC to 100MHz (-3dB)
Sample Rate
250MSa/s (Real-time) & 25GSa/s (Equivalent-time)
Rise Time
<7ns Approx.
<5ns Approx.
<3.5ns Approx.
Sensitivity
2mV/div to 10V/div (1-2-5 increments)
USB
Standard
Please refer to the
Data Sheet
for complete specifications.
USB Interface & Data Logger
The USB Host port on the front significantly enhance the data storage capability of the product. The large amount of data, including screenshot, waveform and panel setup, could be easily stored into a popular flash disk. A USB device port on the rear of the product transfers the screen image and waveform raw data to PC — and also allows your PC to remotely control the GDS-1000-U series oscilloscopes.
Waveform Saving and Automatic Measurement
A total of 15 waveforms can be saved into memory to be displayed at a later time. Two saved reference waveforms and two live waveforms can be compared on the screen at the same time. All signal time and voltage related measurements can be shown on the screen simultaneously in real-time via the Measure key press.
Sophisticated Measurement Functions
Several acquisition modes and 19 auto measurement functions help you to accurately measure the characteristics of waveforms. The advanced auto-set function lets the GDS-1000-U Series automatically catch and display waveforms quickly. The arithmetic functions and FFT functions keep you aware of updated measurement results in real time. With little effort, the GDS-1000-U Series can provide the right information of testing.
Freewave PC Software
Freewave DSO remote control and monitoring software is fully supported for the GDS-1000-U series DSOs and is available free of charge from the GW Instek website. Freewave lets you remotely monitor the DSO, capture waveform data or even capture screenshots. Via a USB connection, Freewave is able to provide near-realtime monitoring and control. Flexible saving options allow you to capture data for later analysis and observation. Screen images can be captured to bitmap or jpeg formats. Waveform data can be saved to CSV for spreadsheet manipulation or computer analysis. Waveforms can also be saved as AVI movies to observe signal variation over time.
Includes:
User's manual
Power Cord
Probes (one per channel):

Probe-GTP-070A-4: 70MHz (10:1/1:1) Switchable Passive Probe (GDS-1052-U)
Probe-GTP-070A-2: 70MHz (10:1/1:1) Switchable Passive Probe (GDS-1072-U)
Probe-GTP-100A-2: 100MHz (10:1/1:1) Switchable Passive Probe (GDS-1102-U)