Keysight 16852A Portable Logic Analyzer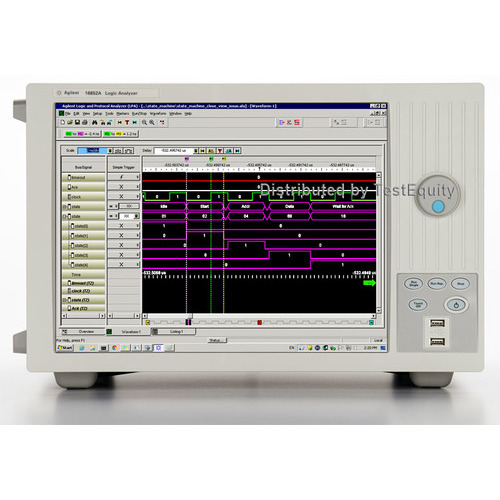 Drill Down Description:

Portable Logic Analyzer

Model:

16852A

Quote Required:

Yes

Condition:

Rental

Web Meta Description:

If you are searching for a Keysight 16852A Portable Logic Analyzer, TestEquity can provide the solution you need. We carry the best electronic test & measurement solutions from top manufacturers.

Product Code:

Rental

Accessories Sort Priority:

0

Multiple Sale Qty:

1

UNSPSC:

4111000000
16851A, 16852A, 16853A, 16854A, 16850 Series
Four models with 34/68/102/136 channels
2.5/5 GHz timing capture; 12.5 GHz w/Timing Zoom
Up to 128 M sample memory
Up to 1.4 GHz trigger sequencer
State speed: 350 MHz/700 Mbps; upgradeable to 700 MHz/1.4 Gbps
Single-ended and differential probing
Application support for many complex designs
15-inch touchscreen
Microsoft Windows® 7 Embedded (64-bit)
Three-year warranty
Find Elusive Problems Quickly, Even Far from the Trigger Point
With 2.5 GHz, 400 ps period timing capture across all input channels, and up to 128-megasample memory depth, the 16850 Series of logic analyzers provide up to 50 percent faster timing capture with deep memory than any other portable logic analyzer on the market, with twice the memory depth.
The industry's Fastest Timing Capture with Deep Memory
The 16850 Series' high-speed timing capture with deep memory lets the designer look back in time to observe the location of the root cause of failure. The high sample resolution of these instruments makes it possible to differentiate timing problems from functional problems, providing the insight needed to shorten the debug and validation process and bring products to market more quickly.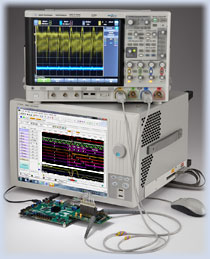 Seamlessly integrate your scope and logic analyzer waveforms.
The 16850 Series logic analyzer's timing and state acquisition allows you to:
Observe timing relationships far away from the trigger point using 2.5 GHz (400 ps)/5 GHz (200 ps) full/half channel timing with up to 128 M samples
Measure more precise timing relationships in the vicinity of the trigger point using 12.5 GHz (80 ps) Timing Zoom (256 K samples)
Find anomalies separated in time with memory depths upgradable to 128 M
Probe a variety of technologies with single-ended and differential attachment options with the highest signal integrity
Buy what you need today and upgrade in the future. 16850 Series logic analyzers come with independent upgrades for state speed and memory depth
Sample synchronous buses up to 1400 Mbps data rates accurately using eye scan to automatically adjust threshold and setup/hold
Easily track problems from symptom to root cause across several measurement modes by viewing time-correlated data in waveform/chart, listing, inverse assembly, source code, or compare display
Time correlate and import oscilloscope/mixed-signal traces into the logic analyzer Waveform window for even greater system insight
Set up triggers quickly and confidently with intuitive, "simple," "quick," and "advanced" triggering options
The Keysight 16850 Series offers a standard state data rate of 700 Mb per second as well as an upgrade option to 1400 Mb per second. Users can choose the desired memory depth, starting with the standard, 2-megasample depth, along with a variety of choices up to the maximum 128-megasample depth. Both state speed and memory depth options can also be upgraded after the initial purchase.
The Keysight 16850 Series also offers a 1.4-GHz trigger sequencer to track high-speed circuits and define very specific conditions to trigger on in an effort to trap errors and drive quickly to the root cause of failure.
Many designers of embedded systems are using DDR2 and DDR3 memories in their designs. The 16850 Series logic analyzers offers these designers a lower-cost solution for tracing memory address and control buses in embedded systems using DDR2 and DDR3 memories. The 16850 Series can provide state tracing of address and control buses on systems running up to DDR2 1333 and DDR3 1333 memories.
Keysight 16850 Series Portable Logic Analyzers
Specifications / Characteristics
16851A
16852A
16853A
16854A
Channels
34
68
102
136
Maximum timing sample rate (half/full channel)
5 GHz (200 ps) with up to 256 M depth
High-speed timing zoom
12.5 GHz (80 ps) with 256 Kb depth
Trigger sequencer
1.4 GHz
Maximum state clock rate
350 MHz standard; 700 MHz with Option 700
Memory depth
2 M standard; Up to 128 M
Supported signal types
Single-ended, differential
Automated threshold/sample position
Yes
Simultaneous eye diagrams, all channels
Yes
Probe compatibility
Direct connect single-ended flying lead
Mictor and Soft Touch Pro connectorless
90-pin connector single-ended and differential
Select DDR2/3 BGA probes and probe cables
Select DDR3 Addr/Cmd slot interposer probes
PC Operating System
Microsoft Windows® 7 Embedded (64-bit)
Processor
Core 2 Duo, M890, 3.0 GHz microprocessor
Removable Hard disk drive
500 GB
LCD touch-screen display
Large 38.1-cm (15-in.) touch-screen display
External display
Front panel and external display can be used simultaneously at 1024 x 768 resolution
Included: one USB keyboard, one USB mouse, accessory pouch, and power cord. Logic analyzer probes are ordered separately. Please specify probes when ordering to ensure the correct connection between your logic analyzer and the device under test.