Keysight W4000D/1TP VEE 8.5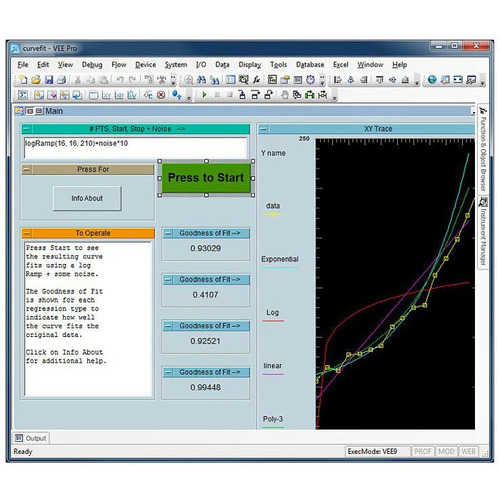 Condition:

New

Drill Down Description:

VEE 8.5

Model:

W4000D/1TP

Quote Required:

No

Web Meta Description:

Keysight VEE is a powerful and intuitive tool for measurement analysis.
W4000D 1TP
Free upgrade for VEE 9.0 and above users General vTools and USB Modular DAQ vTools Windows® 7 and Windows® 8 operating system support Multithreading and multicore programming support SCPI completion Private UserFunction Microsoft Office Excel 2013 Supportability LXI support Conditional breakpoints and breakpoints window Error call stack Integrated database support Supporting custom menu in XML format Enhanced default preferences dialog box NaN and Infinity support Toolbars for VEE objects More Windows standard dialog boxes New sample programs for Keysight 33500 series function/arbitrary waveform generator, 34411A digital multimeter and DSO/MSO oscilloscopes
Keysight VEE Pro 9.32 is an easy-to-use graphical language environment that provides a quick path to measurement and analysis, replacing VEE Pro 9.3. Designed for easy expansion, flexibility and compatibility with the latest industry standards, Keysight VEE allows seamless operation with hardware and software from Keysight and other manufacturers.
Keysight VEE Pro 9.32 now includes new sample programs with simple VEE programming for the latest Keysight instruments — the Keysight 33500 series arbitrary/function generator, Keysight 34411A digital multimeter and InfiniiVision 2000X/3000X/5000/6000/7000 series DSO or MSO oscilloscopes. What's more, programs that are developed in VEE Pro 9.2 work seamlessly in VEE Pro 9.32. Both VEE Pro 9.0 and VEE Pro 9.2 users are able to upgrade their VEE software to VEE Pro 9.32, at no additional cost.
a free trial of VEE Pro 9.32 software.
Keysight VEE 9.32 does not come with an express version.