Keysight B2962A 6.5 Digit Low Noise Power Source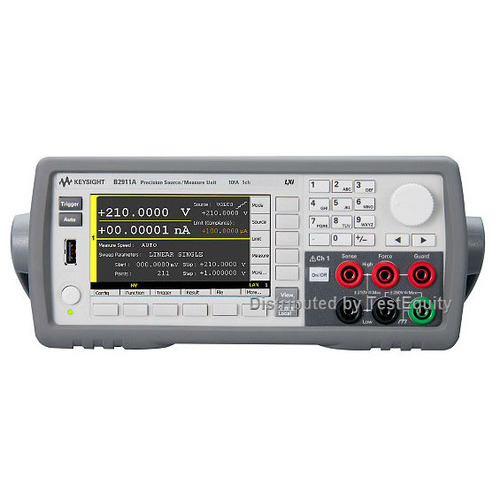 Condition:

New

Drill Down Description:

6.5 Digit Low Noise Power Source

Model:

B2962A

Quote Required:

No

Web Meta Description:

Keysight's B2962A 6.5 Digit Low Noise Power Source offers precision, wide bipolar output range, and extremely low noise.
2 channels, 6.5 digit source
Wide and bipolar voltage/current sourcing (100 nV - 210 V / 10 fA - 10.5 A, 31.8 W)
Best-in-class noise performance (10 µVrms, 1nVrms/√Hz) with ext. filter
Precision arbitrary waveform capability with support for seven built-in functions and user defined waveforms (10 mHz - 10 kHz)
4.5 digit built-in voltage/current monitoring capability (minimum resolution: 10 µV / 1 pA)
Graphical capability supporting time domain voltage/current monitoring on the front panel
Programmable output resistance
Intuitive graphical user interface on 4.3 inch wide color LCD
LXI Core Conformant, USB 2.0, GPIB, LAN and digital I/O interface
Keysight B2960A Series: revolutionary power supplies for precision low noise voltage/current sourcing
The Keysight B2962A Low Noise Power Source, featuring 6.5 digit, 100 nV/10 fA resolution, 10 μVrms noise, bipolar 210 V/3 A (10.5 A pulse) range, innovative sourcing functions, and GUI, is a new generation of power supply/sources. It offers best-in-class precision, wide bipolar output ranges and extremely low noise. It also possess graphing capabilities and other innovative features that enable tests and evaluation that conventional power supply/sources cannot do, making it ideal an companion for oscilloscopes, network analyzers, spectrum analyzers, frequency counters, digital multimeters, nano-voltmeters, etc. The Keysight B2962A can provide a power supply and source solution that meets the difficult measurement challenges faced by researchers, designers and developers working on advanced components, circuits and materials.
World's only source with 6.5 digit resolution and a wide bipolar range of 100 nV - 210 V / 10 fA - 10.5 A.
The Keysight B2962A Power Source has broad voltage (up to ±210 V) and current (up to ±3 A DC and ±10.5 A pulsed) sourcing ranges and excellent 6.5 digit resolution (minimum 100 nV/10 fA program resolution). This enables you to source voltage from 100 nV to 210 V and current from 10 fA to 3A DC / 10.5 A pulsed in a single box. Unlike a typical power supply/source, it supports 4-quardant operation that gives you the freedom to accurately and precisely supply any voltage or current contained within its range and power limit (31.8W) regardless of polarity.
Best-in-class noise floor of 10 μVrms (1 nVrms / √Hz@10 kHz) outperforms that of even linear power supplies.
Low noise performance is required for the development of noise sensitive applications such as VCOs (voltage controlled oscillators), ADC/DAC, new material evaluation, etc. However, conventional power supplies and sources have not been able to achieve the noise levels to meet these needs. The Keysight B2962A supports an optional external filter that enables ultra-low noise output down to 10 µVrms and 1nVrms/√Hz (at 10 kHz), which has never before been possible on a low-cost bench-top source.
Quick front-panel debug and verification
The Keysight B2962A has a 4.3 inch wide LCD display, and all of its capabilities are accessible from the front-panel graphical user interface (GUI). The graphical display not only simplifies user-operation, but it also facilitates viewing measurement results. In addition to its built-in 4.5 digit voltage and current monitoring capability, the Keysight B2962A can display results in numerical or graphical (V-t / I-t) formats on their screen. This permits quick checking and debugging of measurement results without the need for additional equipment.
Flexible arbitrary waveform generation capabilities provide more flexibility than simple DC.
In addition to DC output, the Keysight B2962A has the ability to generate pulsed, swept and arbitrary waveforms in both voltage and current anywhere within its wide output range. Its arbitrary waveform generation capability supports common waveform types (sine, ramp, square, etc.) in addition to user-defined waveforms. This provides a great deal of versatility and allows the B2962A to be used in many complex applications.
The ability to emulate many types of voltage and current characteristics aids device evaluation. The programmable output resistance feature allows you to specify either an output resistance (positive or negative) or a specific voltage vs. current source characteristic. This feature is ideal for emulating a wide variety of devices (such as batteries, photovoltaic cells, sensors, transducers, etc.) that are otherwise difficult to simulate.
Keysight Basic Electrical Measurement Tutorial Videos
A playlist of videos that explain how to use the B2900A Series of source measure units (SMUs) and the B2961A/B2962A power source for evaluating a variety of analog circuits such as an analog-to-digital converter or voltage-controlled oscillator (YouTube).
Includes: Power cable, USB cable, Quick Reference (English), Product Reference CD-ROM (including PDF manuals, Keysight B2900A Quick I/V, Measurement Software and drivers), and Keysight I/O Library Suite.
A BenchVue software license (BV0003B) is now included with your instrument. BenchVue makes it simple to connect, control instruments, and automate test sequences.