Keysight U3606B/ABA Multimeter / DC Power Supply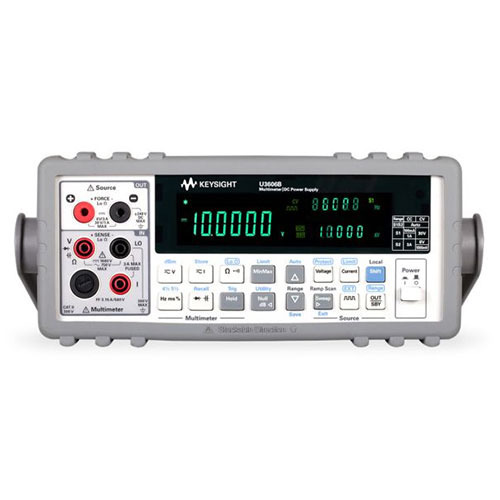 Condition:

New

Display Digits:

5.5

Drill Down Description:

Multimeter / DC Power Supply

Keywords:

5 1/2 DMM, 5 1/2 Digital Multimeter

Model:

U3606B/ABA

Quote Required:

No

True RMS:

Yes

Web Meta Description:

U3606B Multimeter | DC Power supply is a full-featured 5.5 digit digital multimeter (DMM) that comes with a built-in 30-W power supply. In stock at TestEquity.

S3 Part Number:

21215.1
5-1/2 Digit Dual Display DMM
0.025% DCV accuracy, 120,000 counts resolution
10 measurements functions including capacitance
8 math functions
Low milliohm measurement with resolution 0.001mΩ
30W DC Source
30 V/1 A, 100 mA/30 V, 8 V/3 A and 1000 mV/3 A (single output, multiple ranges)
Output limit protection (OCP and OVP)
Ramp and scan capability for multi level DC bias test
4.8kHz square wave output for digital circuit troubleshooting
Additional Features
Built-in GPIB and USB 2.0 full speed interface
SCPI language compatible
Kensington lock slot to prevent theft or misplacement
Three-year warranty
Convenient and Full Featured. One-box source-and-measure device.
The U3606B multimeter | power supply combines a full featured 5.5 digit digital multimeter with a 30 Watt DC power supply in a single, compact unit. Hence it is capable of powering up your device under test (DUT) while you measure voltage or current etc. at the same time. This convenient 2-in-1 concept is space- and cost-efficient.
U3606B is an improved version of U3606A with 2 newly added power range improvements such as better resolutions, broader ripple noise frequency specification, as well as better transient response and voltage programming time.
You can easily connect the U3606B dual-purpose hybrid meter to your PC/laptop via USB or GPIB connectivity and control it remotely with Standard Commands for Programmable Instruments (SCPI). The U3606B is ideal for tests such as sensor validation, electronic component tests and circuit board functional tests. Its key capabilities include sweep function (ramp and scan), low resistance measurement, and square wave output with selectable frequencies of up to 4.8 kHz.
Includes: quick start guide, product reference CD, Keysight IO libraries suite, USB 2.0 High-Speed Type-A to Type-B cable, U8201A combo test lead kit, power cord, calibration certificate.