B&K Precision MDL600 Electronic Load Module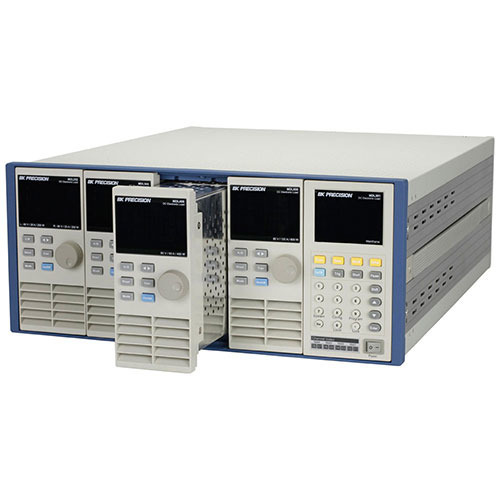 Condition:

New

Drill Down Description:

Electronic Load Module

Model:

MDL600

Quote Required:

No

Web Meta Description:

Find the product you need with our B&K Precision MDL600 Electronic Load Module. We proudly offer best-in-class customer service and will help you find the solutions you need for your business.
MDL001, MDL002, MDL Series
Multi-channel Modular Programmable DC Electronic Load
Power range up to 2400 W
Voltage range up to 500 V
Current range up to 120 A
Support for up to 16 channels with mainframe extension
Removable modules for easy system configurability
Transient mode up to 25 kHz
101 memory locations to save/recall setting parameters
Synchronous Load on/off function
Adjustable slew rate in CC mode
Automatic test function
List mode (sequence mode) - minimum 20 μs step width with 84 user programmable steps
Standard LAN, GPIB, USB, and RS-232 interfaces with USBTMC/SCPI protocol support
Short circuit test
Built-in 16-bit resolution voltage/current measurements (0.1 mV, 0.01 mA)
Remote voltage sensing to compensate for the effect of voltage drop in wires
Operate identical modules in parallel mode for high current applications
OVP/OCP/OPP/OTP and reverse voltage protection
Three-year warranty
The MDL Series is a multi-channel modular programmable electronic load system. Seven different modules of programmable DC loads ranging in power from 200 W to 600 W provide users the flexibility to test a wide range of power sources from multi-output AC/DC power supplies to batteries, fuel cells, and photovoltaic arrays.
The mainframe has four slots that can be configured with any assortment of the modules up to 2400 W (up to 4800 W with mainframe extension). The high-performance electronic load modules of the MDL Series are capable of operating in constant current (CC), constant voltage (CV), constant resistance (CR), constant power (CW), and constant impedance (CZ) mode, which uses DSP technology to simulate non-linear loads and realistic loading behavior.
For remote communication, the MDL series provides LAN, USBTMC compliant USB, RS-232, and GPIB standard interfaces that support SCPI command protocol.
MDL DC Electronic Load Series
Mainframes
Modules
MDL001
MDL002
MDL200
MDL252
MDL302
MDL305
MDL400
MDL505
MDL600
Power
To 2400 W
To 2400 W
200 W
* 250 W / 50 W
300 W / 300 W
300 W
400 W
500 W
600 W
Voltage
–
–
0 - 80 V
0 - 80 V
0 - 80 V
0 - 500 V
0 - 80 V
0 - 500 V
0 - 80 V
Current
–
–
0 - 40 A
0 - 20 A
0 - 45 A
0 - 20 A
0 - 60 A
0 - 30 A
0 - 120 A
Channels
–
–
1
2
2
1
1
1
1
Please refer to Data Sheet for complete specifications.
*MDL252 is a dual-channel module supporting a unique flexible power configuration. The user can allocate 250 W to either channel up to 300 W total (e.g. 50 W/250 W, 250 W/50 W, 150 W/150 W).
Mainframes include: Power cord, user manual, four blank panels for module slots (attached to mainframe), mainframe extension cable (MDL002 only). Modules include: Certificate of calibration and test report.