Tektronix TBS1202B Digital Storage Oscilloscope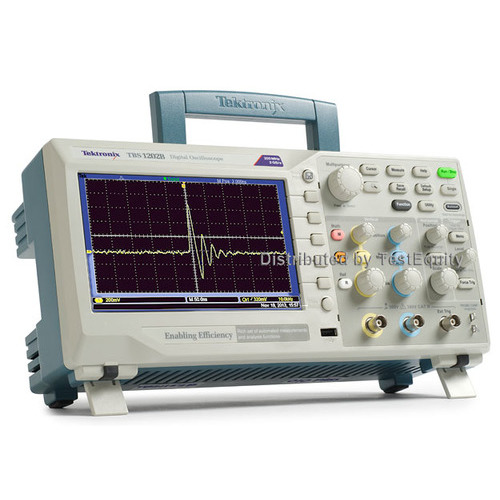 Bandwidth:

200 MHz

Condition:

New

Drill Down Description:

Digital Storage Oscilloscope

Model:

TBS1202B

Quote Required:

No

Web Meta Description:

The TBS1202B Digital Storage Oscilloscope features 200 MHz, 2 Channels, 2 GS/s, 2.5K record length.
Handles everyday test challenges with advanced features you wouldn't expect
The TBS1000B Digital Storage Oscilloscope Series provides you with affordable performance in a compact design. Packed with standard features including USB connectivity, 34 automated measurements, limit testing, data logging, frequency counter, TrendPlot&tm; and a context-sensitive help menu the TBS1000B Series oscilloscopes helps you get more done, in less time.
Critical tools for troubleshooting your device
The TBS1000B oscilloscope comes standard with a variety of advanced triggers used to debug today's complex circuitry. Flexible options for utilizing rising or falling edges, pulse widths and video trigger set-ups enable users to quickly isolate their signals of interest.
Once signals are captured, the TBS1000B offers advanced math and measurement capabilities making it easy to evaluate signal quality . Users can add, subtract and multiply waveforms or use any one of 34 automated measurements to quickly and reliably calculate important signal characteristics such as frequency, rise time or overshoot.
Digital precision for accurate measurements
With up to 200 MHz bandwidth, 2 GS/s maximum sample rate and 3% vertical measurement accuracy the TBS1000B allows you to see the details of your signals. With the Tektronix proprietary sampling technology there are no compromises, you will get the stated real-time sampling rate on all channels, all the time with at least of 10X oversampling. The sampling performance is not reduced when changing horizontal settings or when using multiple channels, enabling you to see the true characteristics of your signals.
Seeing signal details
The TBS1000B comes standard with a 7-inch high resolution TFT display for a clear view of all of your signals and critical on screen information. The instrument is further enhanced by a user interface inspired by the award winning Tektronix MSO/DPO series of instruments that is easy to use, provides quick access to all of the oscilloscope functions and includes a high resolution "Pan & Zoom" feature enabling you to see even more signal details of up to 10 times normal resolution.
Key features:
Dual channel - 6-digit frequency counters included
Zoom function shows details up to 10X
34 automated measurements
A variety of advanced triggers
Advanced math and measurement capabilities
TrendPlot ™ function plots long-term measurement values
Limit Test feature for Pass/Fail testing
Multiple-language user interface
Designed for ease of use and Intuitive operation
Built-in Help menu
Front/rear USB ports standard, GPIB optional
"EDU" versions include courseware
Industry-leading service and support
Includes: Two (2) TPP0101: 100 MHz passive probes, power cord, printed installation and safety manuals, and additional documentation on CD.
2-channels @ 200 MHz, 150 MHz, 100 MHz, 70 MHz, 50 MHz and 30 MHz
Up to 2 GS/s sample rate on all channels
2.5k point record length on all channels
Advanced triggers including pulse and line-selectable video triggers
7 inch WVGA (800 X 480) Active TFT Color Display
34 automated measurements
Front panel USB Host Port / Rear panel USB Device Port
Dual window FFT, simultaneously monitors time and frequency domains
Built-in waveform limit and TrendPlot testing
Automated, extended data logging feature
Dual channel frequency counter
Zoom Function
Autoset and auto-ranging functions
Built-in context-sensitive help
Five-year warranty