Flir T640 Thermal Camera for Predictive Maintenance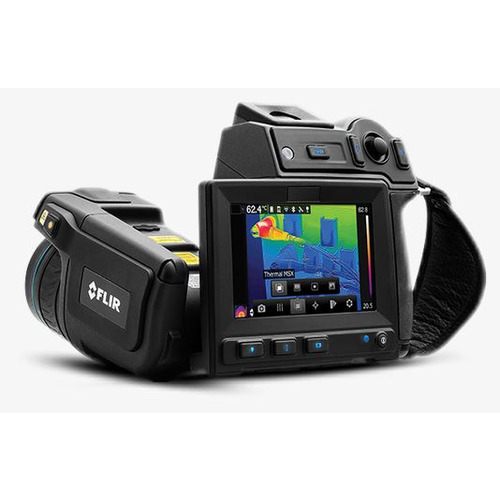 Condition:

New

Drill Down Description:

Thermal Camera for Predictive Maintenance

Keywords:

testequity, flir, thermal camera, thermal imaging, t640

Model:

T640

Quote Required:

No

Web Meta Description:

The high-performance FLIR T640 helps you find hidden signs of electrical resistance, mechanical wear, and other heat-related problems.

S3 Part Number:

21783.1
Built-in Digital Camera: 5 Mpixels with LED light (photo as separate image)
Color alarm (isotherm): Above/below/interval
Compass: Camera direction automatically added to every still image
Detector Type: Focal plane array (FPA), uncooled microbolometer
Difference Temperature: Delta temperature between measurement functions or reference temperature
Focal Length: 41 mm (1.63 in.)
Housing material: Magnesium
IR Resolution: 640 × 480 pixels
Laser: Activated by dedicated button
Laser Alignment: Position is automatic displayed on the IR image
Laser Classification: Class 2
Laser Type: Semiconductor AlGaInP diode laser, 1 mW, 635 nm (red)
Packaging Size: 495 x 192 x 370 mm (19.49 x 7.56 x 14.57 in.)
Profile: 1 line profile with max/min temp
Report Generation: Instant Report (*.pdf file) in camera Separate PC software with extensive report generation
Screening: Difference temperature alarm, audible
Spectral Range: 7.5–14 µm
Tripod Mounting: UNC ¼"-20
Weight: 1.3 kg (2.87 lb.)
FLIR Tools Mobile app [WiFi]: Included
Built-in Illuminator LED: Included
FLIR Tools for PC and Mac: Included
Laser Pointer & Laser Locator: Included
Text: Add table. Select between predefined templates or create your own in FLIR Tools
Time Lapse: 15 seconds to 24 hours
Voice: 60 seconds (via Bluetooth) stored with the image
Voice & Text Annotation: Included
The high-performance FLIR T640 helps you find hidden signs of electrical resistance, mechanical wear, and other heat-related problems.
Offering the rich detail of MSX®, the enhanced resolution FLIR UltraMax®, and temperature calibration to 2000°C, the 307,200 (640 x 480) pixel T640 has the superior image quality and clarity needed to diagnose problems quickly, so you start on repairs immediately.
Keep things operating safely and head off expensive downtime with this flexible, dependable thermal imaging camera.