Hioki RM3545 Resistance Meter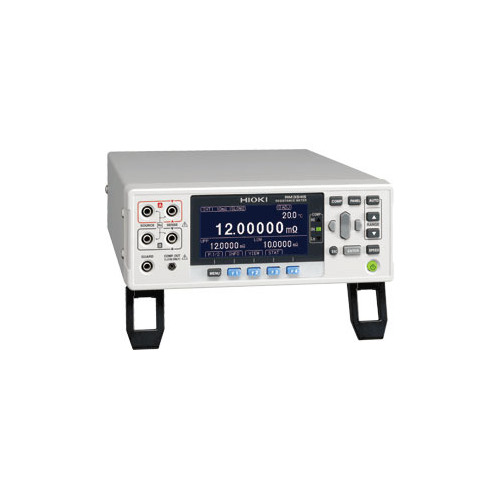 Drill Down Description:

Resistance Meter

Model:

RM3545

Web Meta Description:

Hioki RM3545 features super-high accuracy and multi-channel capabilities.

Quote Required:

No

Condition:

New
RM3545-02
0.006% basic accuracy, 0.01 μΩ max. resolution, 1A max. measurable current Measure from 0.00 μΩ (testing current 1 A) to 1200 MΩ Multiplexer Unit Z3003 (option) provides 20-channels of 4-terminal measurements for a complete assessment of multi-point signals (RM3545-02 only) Low-power resistance measurement with an open voltage not exceeding 20 mV High-speed, comprehensive productivity support delivers decisions in as little as 2.2 ms from start to finish Replaces Hioki 3541
Super-high accuracy and multi-channel capabilities (20 channels with 4-terminal measurement)
The RM3545 can perform resistance measurement with a 6.5-digit, 1,200,000-count display at a maximum resolution of 0.01 μΩ. It delivers more than enough capabilities to be used in applications requiring high-resolution resistance measurement, for example in testing inverter motor windings.
High-resistance materials such as conductive sheets and conductive rubber are often used in electronic components. The RM3545 can measure resistance values of up to 1,200 MΩ. It also delivers maximum accuracy of 0.006%, enabling researchers to test state-of-the-art current sensing resistors.
Auto-scanning and step scanning
When using the Multiplexer Unit Z3003 to perform scanning measurement, you can select either step scanning or auto scanning depending on the test conditions. Auto scanning is convenient when you require only an overall judgment result at the completion of scanning, while step scanning is convenient when you wish to generate judgments in real time using the instrument's EXT I/O interface.
RM3545-01/-02 Comparison chart
RM3545 series
RM3545
RM3545-01
RM3545-02
External I/O (comparator, BCD, BIN function)
Y
Y
Y
Communication interfaces
RS-232C/Printer/USB
Y
Y
Y
GPIB
N/A
Y
N/A
Multiplexer* (scanner function)
N/A
N/A
Y (Max. 20 channels)
Basic specifications (Accuracy guaranteed for 1 year)
Resistance range
10 mΩ (12.00000 mΩ display Max., 10 nΩ resolution) to 1000 MΩ range (1200.0 MΩ display Max., 100 kΩ resolution), 12 steps
[LP ON] 1000 mΩ (1200.00 mΩ display Max., 10 μΩ resolution) to 1000 Ω range (1200.00 Ω display Max., 10 mΩ resolution), 4 steps
Measurement accuracy: ±0.006 % rdg. ±0.001 % f.s.
Testing current
1 A DC to 1 μA or less [LP ON] 1 mA to 5 μA DC
Open-terminal voltage
20 V DC (10 kΩ range or more), 5.5 V DC max. (1000 Ω range or less)
[LP ON] 20 mV DC max.
Temperature measurement
-10.0 to 99.9°C, accuracy: ±0.50°C (Temperature Sensor Z2001 and RM3545 combined accuracy), -99.9 to 999.9°C (analog input)
Measurement speed
FAST (2.2ms) / MED (50Hz: 21ms, 60Hz: 18ms) / SLOW1 (102ms) / SLOW2 (202ms)
Functions
Temperature correction, temperature conversion, offset voltage compensation (OVC), comparator (ABS/ REF%), BIN, key-lock (OFF, menu lock, all lock), display digit count selection function (7- digit/ 6-digit/ 5-digit), automatic power supply frequency settings (AUTO/ 50Hz/ 60Hz), scaling, judgment sound setting, auto hold, averaging, statistical calculations, panel store/panel load, D/A output.
Multiplexer
[Only RM3545-02] Support unit: Z3003 (Installed up to 2 units)
Communication interfaces
Select from GP-IB (RM3545-01 only), RS-232C, PRINTER (RS-232C), or USB . Remote function, communications monitor function, data output function, memory (50)
Please refer to Data Sheet for complete specifications.
Includes: power cord, one L2101 Clip type lead, one Z2001 temperature sensor, one Male EXT I/O connector, Instruction manual, Application disc, USB cable (A-to-B type), and one Spare fuse.