Rohde & Schwarz HM8123 Universal Counter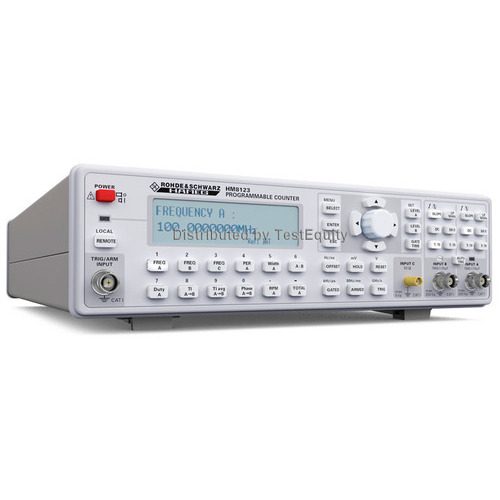 Drill Down Description:

Universal Counter

Model:

HM8123

Web Meta Description:

The HM8123 3 GHz Counter has a Measurement range: DC to 3 GHz.

Quote Required:

No

Condition:

New

Accessories Sort Priority:

0

Multiple Sale Qty:

1

UNSPSC:

4111000000
HM8123-X.02
Measurement range DC to 3 GHz
2 Measurement inputs DC to 200 MHz, 1 measurement input 100 MHz to 3 GHz
Input impedance A/B: 1MΩ/50Ω (switchable), sensitivity 25 mVrms
Input impedance C: 50Ω, sensitivity 30 mVrms
400 MHz time base with 0.5 ppm stability
10-Digit resolution at 10s gate time
External Ref. Input/Output (10 MHz) via BNC-connector
9 Measurement functions, external gate and arming
HM8123: TCXO (temperature stability: ±0.5 x 106)
HM8123-X: OCXO (temperature stability: ±1.0 x 108)
Input for external time base (10MHz)
Intuitive one-push button operation each function directly addressable
RS-232/USB dual interface included, optional IEEE-488 (GPIB)
The universal counter HM8123 features three high sensitivity inputs and allows the measurement of signals in the frequency range between DC and 3 GHz.
The HM8123 Universal Counter is ideally suited for test installations in production, and automated tests in laboratories. It supports either a RS-232, an USB, or an optional GPIB IEEE-488 interface; and thus may be easily integrated into any test system.
Included with the 3 GHz Counter: power cord, printed operating manual and software CD.