Fluke 714B Thermocouple Calibrator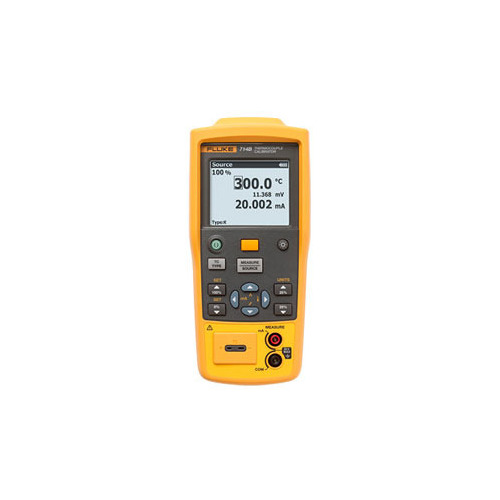 Condition:

New

Drill Down Description:

Thermocouple Calibrator

Model:

714B

Quote Required:

No

Web Meta Description:

The Fluke 714B is a highly accurate, easy-to-use single-function thermocouple temperature calibrator.

S3 Part Number:

23698.1
FLUKE 714B EN
Highly accurate, easy-to-use single-function thermocouple temperature calibrator
The 714B can measure and simulate (17) different thermocouple types and millivolts
Measure 4 to 20 mA signals while simultaneously sourcing a temperature signal
Hanging tool designed in and included with every unit
Configurable 0% and 100% source settings for quick 25% linearity checks
Linear ramp and 25% step auto ramp based on 0% and 100% settings
Dual inputs and backlit display for easy interpretation of measurements
Power down settings remembered at power up for easy restart of tests
1-year and 2-year specifications and traceable certification of calibration
The Fluke 714B Thermocouple Calibrator is a handheld, battery-operated instrument that measures and sources a variety of thermocouples. It also has an isolated channel to measure 4-20 mA.
The 714B supports 17 standard thermocouples, including types E, N, J, K, T, B, R, S, L, U, C, BP, XK, G, D, P, or M. See User's Manual for a summary of the ranges and characteristics of the supported thermocouples.
Includes: AC175 alligator clips (1 set), TL75 test leads (1 set), TC Cap for TC hole, Mini standard TC plugs (with 80cm TC wire), package (Including Type K), 4 AA alkaline batteries, Magnet Strap TPAK, 712B/714B Safety Sheet, and 714B Quick Reference Guide.