Fluke 123B NA Industrial ScopeMeter Handheld Oscilloscope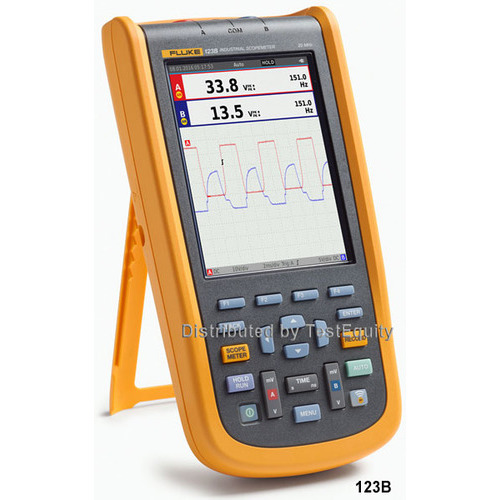 Condition:

New

Drill Down Description:

Industrial ScopeMeter Handheld Oscilloscope

Model:

123B NA

Quote Required:

No

Web Meta Description:

Explore our options for a Fluke FLUKE 123B/NA Industrial ScopeMeter Handheld Oscilloscope. With various sizes and selections, you are sure to find the perfect solution at TestEquity.

S3 Part Number:

24576.2
Dual-input 40 MHz or 20 MHz digital oscilloscopes:

123B, 20MHz Oscilloscope, Dual Input Multimeter and Recorder
124B, 40 MHz Oscilloscope, Dual Input Multimeter and Recorder with Cursors
125B, same as 124B, plus Power and Harmonic Measurements and Industrial Bus Health Test

Two 5,000 counts true-RMS digital multimeters
Connect-and-View™ trigger simplicity for hands-off operation
IntellaSet™ technology automatically and intelligently adjusts numerical readout per the measured signal
Connect-and-View trigger simplicity for hands-off operation
Save or recall data and instrument setups
Check Industrial networks with BusHealth physical layer tests against defined reference levels (125B)
Dual-input waveform and meter reading recorder for trending data over extended periods
Recorder Event Detect captures elusive intermittent signals on repetitive waveforms up to 4 kHz
Shielded test leads for oscilloscope, resistance and continuity measurements
Resistance, continuity, diode and capacitance meter measurements
Power measurements (W, VA, VAR, PF, DPF, Hz); Voltage, current and power harmonics
Rugged design to withstand 3g Vibration, 30g shock, and rated IP51 according to EN/IEC60529
Highest safety rating in the industry: safety rated for CAT IV 600 V
Li-Ion rechargeable battery, seven-hours operation (with four-hour charge time)
Simplified testing, more insight and faster electro-mechanical troubleshooting
The compact ScopeMeter® 120B Series, is the rugged oscilloscope solution for industrial electrical and electro-mechanical equipment troubleshooting and maintenance applications. It's a truly integrated test tool, with oscilloscope, multimeter and high-speed recorder in one easy-to-use instrument. The ScopeMeter 120B Series also integrates with Fluke Connect® mobile app and FlukeView® for ScopeMeter software to enable further collaboration, data analysis and archiving of critical test information.
The 120B Series Industrial ScopeMeter test tools include innovative functions designed to help technicians troubleshoot faster and get the answers they need to keep their systems up and running. Display waveforms with Connect-and-View™ trigger and setup technology and automatically view related numerical measurements using Fluke IntellaSet™ technology, all without making manual measurement adjustments. With Recorder Event Detect capabilities, elusive intermittent events are captured and logged for easy viewing and analysis.
Connect-and-View™ triggering for an instant, stable display
Oscilloscope users know how difficult triggering can be. Using the wrong settings can lead to unstable waveform captures, and sometimes the wrong measurement data. Fluke's unique Connect-and-View™ triggering technology recognizes signal patterns, and automatically sets up the correct triggering to provide a stable, reliable and repeatable display. Connect-and-View™ triggering is designed to work with virtually any signal, including motor drives and control signals - without adjusting parameters, or even touching a button. Signal changes are instantly recognized and settings are automatically adjusted, providing a stable display even when measuring multiple test points in quick succession.
IntellaSet™/AutoReading
The Auto Readings function with Fluke IntellaSet™ technology uses proprietary algorithms to intelligently analyze the measured waveform and automatically displays the most appropriate numerical measurements on screen, so you can get the data you need easier than ever before. As an example, when the measured waveform is a line voltage signal, the Vrms and Hz readings are automatically displayed, whereas if the measured waveform is a square wave, the Vpeak-peak and Hz readings are automatically displayed. Using IntellaSet™ technology in conjunction with Connect-and-View™ automatic triggering you can be sure you're seeing not only the correct waveform, but the appropriate numerical reading as well. All without touching a button.
Industrial equipment needs a reliable power supply to operate properly, use the dual input to obtain key power measurements.
For single phase or 3-phase balanced systems, the dual inputs of the Industrial ScopeMeter® 120B Series can measure ac+dc rms voltage on channel A and ac+dc rms current on channel B. The Fluke 125B can then calculate; frequency, phase angle, active power (kW), reactive power (VA or var), power factor (PF) or displacement power factor (DPF) and can also calculate the power values for a 3-phase system where all phases have equal voltage and currents. This applies to both balanced system and resistive loads.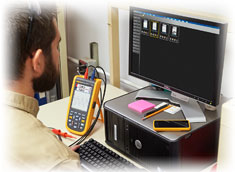 Store instrument's screen copies on your PC, capture and store waveform data from your ScopeMeter, create and archive waveform references for easy comparison and much more with FlukeView

®

ScopeMeter

®

Software for Windows

®

.
120B Series ScopeMeter Oscilloscopes
Fluke 123B
Fluke 124B
Fluke 125B
Functions
Full Function Dual Input Scope and Meter
•
•
•
Oscilloscope Bandwidth MHz
20
40
40
Meter and Scope Recorder
•
•
•
Scope Cursor Measurements
•
•
Power and Harmonics Measurements
•
BusHealth
•
Included Accessories
10:1 voltage probe
•
•
i400S AC current clamp
•
Included with all models: Shielded test leads with black ground leads, black test lead (for grounding), hook clips (red, blue), banana-to-BNC adapter, 10:1 voltage probe, USB angled adapter, WiFi USB adapter, Switch Mode Power Supply, Adapter/Battery Charger, rechargeable Li-ion battery pack. "/S-models" also include: soft carrying case, magnetic hanger, FlukeView ScopeMeter Software for Windows and screen protector. Also included with 125B/NA and 125B/NA/S: i400s AC Current Clamp.