Keysight DSOX1102G Digital Storage Oscilloscope with AWG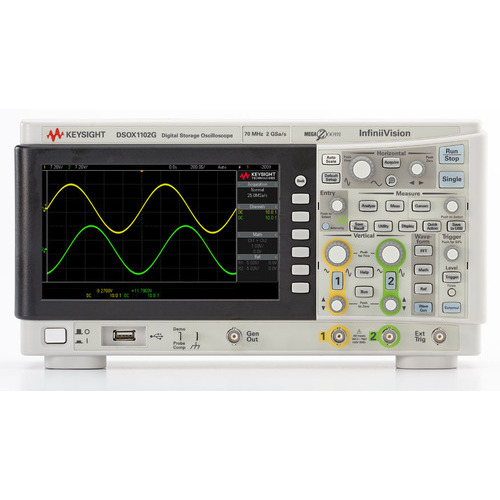 Bandwidth:

70 MHz

Analog Channels:

2 Chan

Condition:

New

Drill Down Description:

Digital Storage Oscilloscope with AWG

Model:

DSOX1102G

Quote Required:

No

Web Meta Description:

Keysight InfiniiVision DSOX1102G has 2-ch., 70/100 MHz bandwidth and 20 MHz function generator and makes professional measurements, including mask, math, FFT, analog bus, and protocol triggering/decod
Discontinued
Discontinued - Availability is Limited to Stock On-Hand
Please see our replacement model: Keysight-DSOX1202G
70 MHz – upgradable to 100 MHz w/ Option DSOX1B7T102
Sample rate: 2 GSa/s
Maximum memory depth: 1 Mpts
20 MHz Function Generator (includes Bode plot test)
Update rate: 50,000 wfms/sec with Keysight's 4th generation MegaZoom technology
Display: 7-inch TFT LCD WVGA
Six-in-one instrument integration
Mask Limit testing
Segmented memory
Up and running quickly with built-in help and training signals
Integrated digital voltmeter (Free with oscilloscope registration at Keysight's web site)
Optional Serial protocol analysis: I²C, SPI, UART/RS-232; CAN, LIN
Connectivity: USB 2.0 (host and device), BenchVue ready
Three-year warranty
Make professional measurements, including mask, math, FFT, analog bus, and protocol triggering/decode
The DSOX1102G uses Keysight's unique MegaZoom IV custom ASIC technology, which enables a high 50,000 waveforms per second update rate. This makes it easier to see random and infrequent glitches and anomalies that similarly-priced oscilloscopes might miss. The DSOX1102G also has a sampling rate of up to 2 GSa/s and comes standard with two probes. In addition, The DSOX1102G uses segmented memory capability to maximize memory depth while helping the scope test faster.
Easily learn how to use the DSOX1102G and set up measurements
The industry-standard front panel is easy to use and features built-in help so new users can quickly analyze signals to deliver results. Unlike most scopes in this class, the educator's resource kit comes standard. The kit includes built-in training signals, a comprehensive oscilloscope lab guide written specifically for undergraduate students, and an oscilloscope fundamentals slide set for professors and lab assistants.
Six-in-one instrument integration
The DSOX1102G provides additional value and saves valuable bench space. In addition to being an oscilloscope, the DSOX1102G , like all Keysight 1000 X-Series oscilloscopes is also a serial protocol analyzer, digital voltmeter and frequency counter. And the DSOX1102G includes a frequency response analyzer and WaveGen function generator. Bode plot fundamentals are easy to teach with the built in WaveGen and frequency response analysis.
Quickly analyze signals and determine signal parameters with 24 typical oscilloscope measurements
correlate time and frequency domain phenomenon on a single screen with the gated FFT function. Additionally, mask limit testing is available to help easily detect signal errors. The DSOX1102G supports decoding and analysis of a wide range of popular embedded and automotive serial bus applications, which include I2C, SPI, UART/RS232, CAN and LIN.
Hardware-based serial protocol decode and triggering
When you add optional software, the DSOX1102G is a powerful protocol analyzer that can do powerful decode and hardware-based triggering that enables specialized serial communication analysis. Protocols supported:
I2C, SPI, UART/RS232 (DSOX1EMBD)
CAN, LIN (automotive) (DSOX1AUTO)
Memory performance beyond specifications
The DSOX1102G's segmented memory optimizes your acquisition memory by selectively capturing and storing important segments of signals without capturing unimportant signal idle-/dead-time. Segmented memory acquisition is ideal for applications including packetized serial pulses, pulsed laser, radar bursts and high-energy physics experiments. Up to 50 segments can be captured on the DSOX1102A and DSOX1102G with a minimum re-arm time of less than 19 ?s.
DSOX1102G Additional Features and Productivity Tools:
WaveGen Function Generator
The integrated 20 MHz function generator with signal modulation capability. It's ideal for educational or design labs where bench space and budget are at a premium.
Frequency Response Analyzer
The DSOX1102G's frequency response analyzer is the perfect tool to help students understand the gain and phase performance of passive LRC circuits or active op-amps.
Reference Waveforms
Store and compare up to two waveforms in the oscilloscope's non-volatile reference waveform memory locations.
USB Save
Documentation is fast and easy with screenshots and binary data for creating PC-based reports.
Localized GUI and Help
The GUI front panel overlays are easily accessed. And during operation, quickly access built-in help with one button.
Connectivity Compatibility
Built-in USB host and USB device ports make PC connectivity easy. And BenchVue simultaneously displays multiple measurements.
Probe Solutions
Keysight offers a complete family of innovative probes and accessories for the InfiniiVision 1000 X-Series.
Secure Erase
Internal nonvolatile memory is clear of all setup, reference waveforms and user preferences, ensuring the highest security.
Digital Voltmeter and Frequency Counter
The DSOX1102G has an integrated 3-digit voltmeter (DVM) [free with product registration on Keysight website] and 5-digit frequency counter. Both the DVM and triggered scope measurements can be made with the same connection.
Math & FFT (Fast Fourier Transform)
Math functions perform arithmetic operations on analog input channels or perform a transform function on the result of math. FFT is used to compute the Fast Fourier Transform using analog input channels or an arithmetic operation g(t).
Included with DSOX1102G: Two (2) N2140A 1:1, 10:1 switchable 200 MHz probes and power cord.