Tektronix MSO58 5-BW-1000 Mixed Signal Oscilloscope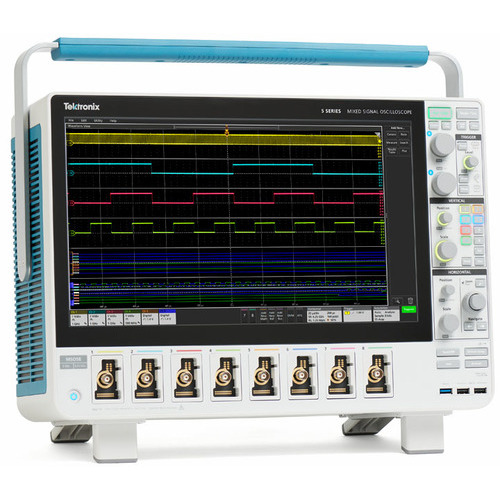 Bandwidth:

1 GHz

Analog Channels:

8

Condition:

New

Digital Channels:

64

Drill Down Description:

Mixed Signal Oscilloscope

Model:

MSO58 5-BW-1000

Promo Text:

<a href=inch/tektronix-unleash-your-scopes-power-10-offinch target=inch_selfinch><strong>CLICK HERE to view the Unleash Your Scope's Power promo page</strong></a></span></span> <br />

Quote Required:

No

Web Meta Description:

Tektronix MSO58/5-BW-1000. TestEquity offers various delivery options to help meet your deadlines.
MSO58 5-BW-1000: 350 MHz (Upgradeable to 2 GHz)
Eight (8) FlexChannel inputs that can each show 1 analog or 8 digital signals
Sample Rate: 6.25 GS/s
Record Length: 62.5 M
15.6 inch, high-definition display with capacitive touch
12-bit Analog-to-digital with enhanced resolution up to 16 bits
Optional Arbitrary/Function Generator
Optional Windows operating system
Three-year warranty
Videos: • 5-Series MSO Overview • Technical Overview • Engineers' Testimonial
Setting New Standards for Performance, Analysis, and Overall User Experience
The MSO58 has a remarkably innovative pinch-swipe-zoom touchscreen user interface, the industry's largest high-definition display, and 4 FlexChannel™ inputs that let you measure one analog or four digital signals.
Higher Sample Rates and Longer Record Lengths
The MSO58 5 Series MSO offers a new level of integration of digital channels. Digital channels share the same high sample rate (up to 6.25 GS/s) for fine timing resolution, and long record length (up to 125 Mpoints) for long time captures as analog channels. Previous-generation MSOs required tradeoffs, with digital channels having lower sample rates or shorter record lengths than analog channels.
FlexChannel™ technology enables maximum flexibility and broader system visibility
FlexChannel technology enables each of the inputs on the instrument to be used as a single analog channel or eight digital channels. The conversion is done by simply attaching a TLP058 logic probe to any input. Imagine the flexibility and configurability this provides.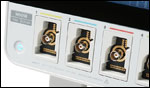 FlexChannel Technology: Each Channel Can be a Single Analog, or 8-Digital Input
The MSO58 can be configured to look at eight analog and zero digital signals. Or seven analog and eight digital, and so on. You can change the configuration at any time by simply adding or removing TLP058 logic probes, so you always have the right number of digital channels.

User Interface Designed for Touch
The 5 Series MSO's 15.6" display includes a capacitive touchscreen and provides the industry's first oscilloscope user interface truly designed for touch. The touch interactions that you use with phones and tablets, and expect in a touch-enabled device, are supported in the 5 Series MSO.
Drag waveforms left/right or up/down to adjust horizontal and vertical position or to pan a zoomed view
Pinch and expand to change scale or zoom in/out in either horizontal or vertical directions
Drag items to the trash can to delete them
Swipe in from the right to reveal the Results Bar or down from the top to access the menus in the upper left corner of the display
Experience the Performance Difference
With up to 2 GHz analog bandwidth, 6.25 GS/s sample rates, standard 62.5 M record length and a 12-bit analog to digital converter (ADC), the MSO58 has the performance you need to capture waveforms with the best possible signal fidelity and resolution for seeing small waveform details.
Included with MSO58: Eight (8) passive probes (TPP0500B with 350 MHz & 500 MHz models, TPP1000 with 1 GHz & 2 GHz models), calibration certificate, installation and safety manual, accessory pouch with integrated front cover, mouse and power cord.