B&K Precision 5335B Power Meter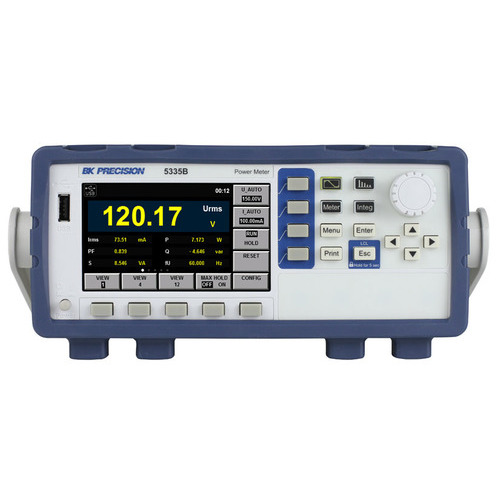 Condition:

New

Drill Down Description:

Power Meter

Model:

5335B

Quote Required:

No

Web Meta Description:

B&K Precision 5335B, a single-phase AC / DC power meter designed for measuring and analyzing power consumption.

S3 Part Number:

25900.1
0 to 600 Vrms (Cat II) and 0 to 20 Arms direct input ranges
Frequency ranges DC, 0.5 Hz to 100 kHz
0.1% basic accuracy for voltage and current measurements
4.3-inch color LCD (TFT)
Simultaneously measure and display up to 12 different measurement parameters
Capture inrush current, and voltage surge with the peak function
Harmonic measurements to the 50th order
Integration function with automatic range switching
Ability to measure electric energy which is produced or consumed
Pre-compliance testing according to IEC/EN62000-3-2 / 4-7
Standard USB, GPIB, RS232 and LAN interfaces
Line and frequency filter capability for reducing unwanted signal noise
Optional universal breakout box to simplify connection between power meter and DUT
Three-year warranty
Rich Measurement Functions
The 5335B is a single-phase AC / DC power meter designed for measuring and analyzing power consumption as well as power quality parameters. The 5335B quickly and accurately measures voltage and current up to 600 Vrms / 20 Arms with 0.1% accuracy and a bandwidth up to of 100 kHz, as well as power factor, frequency, and phase. Additionally, the meter features a powerful integration function, the ability to perform harmonic measurements to the 50th order and an oscilloscope mode.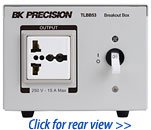 Universal Breakout Box
The optional TLBB53 breakout box simplifies AC line connection between the power meter and the DUT, and eliminates the need to cut the power cord and strip wires to connect to the power meter. This breakout box supports easy plug in connection and uses a universal socket to support most plugs used worldwide. A circuit breaker/ switch is also provided for additional protection.
Intuitive User Interface
The large 4.3 inch color LCD screen enables easy viewing of configuration and measurements. Use the dedicated function keys to select one of the 4 main measurement modes: meter, harmonic, integral or oscilloscope. The results are displayed in numeric and graphical format. Screenshots can be saved directly to a USB flash drive. The meter is also equipped with standard USB, GPIB, RS232 and LAN interfaces for remote control, data logging and data analysis.
Motor Test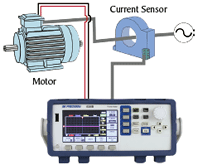 Many industrial products use PWM as a speed control method. The 5335B is able to measure input signals ranging from 0.5 Hz – 100 kHz and input voltages up to 600 V.
Measurements: Voltage, Current, Active power,
Reactive power, Apparent power, Power factor, Phase difference, Frequency, V Max/V Min, A Max/A Min, Crest factor, Integration, Harmonic distortion factor, Total harmonic distortion (THD)
Included with 5335B: Getting Started Manual, AC Power Cord, USB Type A-to-Type B Cable and Certificate of Calibration.