Tektronix MSO64 6-BW-8000 Mixed Signal Oscilloscope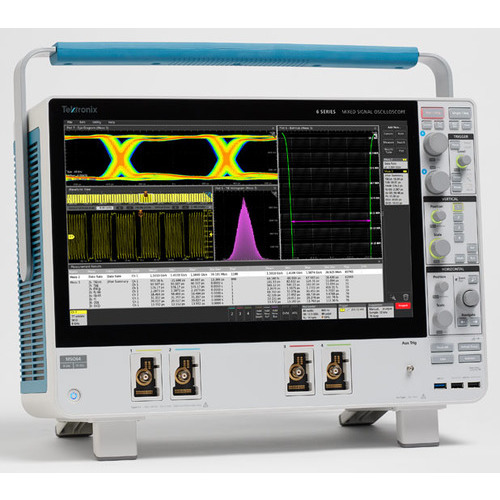 Bandwidth:

8 GHz

Condition:

New

Drill Down Description:

Mixed Signal Oscilloscope

Model:

MSO64 6-BW-8000

Quote Required:

No

Web Meta Description:

Shop here for the TEK MSO64/6-BW-8000 plus the other tools & supplies. With unmatched product selections, TestEquity offers everything you need to get the job done.

Analog Channels:

4

Digital Channels:

32

S3 Part Number:

25915.1
Bandwidth: 8 GHz
Capacitive pinch-zoom-swipe 15.6-inch touchscreen
25 GS/s Real-Time Sample Rate on four channels (Interpolated: 2.5 TS/s)
Standard Record Length: 62.5 Mpoints (125 Mpoints and 250 Mpoints optional upgrades)
16-bit resolution at 200 MHz (High Res mode)
Windows 10 operating system (Optional)
Four FlexChannel inputs (eight, with TLP058 logic probe)
Options for decode and trigger support for CAN FD, MIL-STD-1553, ARINC429 and SENT bus
Options for serial compliance testing for Automotive Ethernet and USB 2.0
An advanced power analysis option with two rounds of free enhancements
Additional capabilities including FastFrame segmented memory and enhanced autoset
Three-year warranty
More speed. Lowest noise. Exceptional measurement confidence.
Tektronix 6 Series MSO provides excellent signal fidelity for analyzing and debugging today's embedded systems. The remarkably innovative pinch-swipe-zoom touchscreen user interface coupled with the industry's largest high definition display and 4 FlexChannel® inputs that let you measure one analog or eight digital signals per channel, the 6 Series MSO is ready for today's toughest challenges and tomorrow's too.
The 6 Series MSO offers a new level of integration of digital channels. Digital channels share the same high sample rate (up to 25 GS/s) for fine timing resolution, and long record length (up to 250 Mpoints) for long time captures as analog channels without the usual tradeoffs: digital channels having lower sample rates or shorter record lengths than analog channels.
Saves Embedded Systems Designers Time, Protects Investments
The new 6 Series MSO extends the performance threshold of midrange oscilloscopes delivers a 25 GS/s sample rate simultaneously on all 4 channels. The MSO64 also boosts measurement confidence with its low-noise inputs especially at the highest sensitivity settings where it matters most. For example, modern embedded designs require clean, precisely-controlled DC power supplies to feed ASIC and FPGA devices. For such applications, the 6 Series MSO enables designers to measure DC power rails with more resolution and accuracy, reducing the time it takes to understand high frequency influencers on power rails in a design.
New levels of signal detail
To meet the need for more insight on faster signals, the 6 Series MSO incorporates a new low-noise preamplifier ASIC, the TEK061, that dramatically lowers noise, especially on signals that are in the hundreds of millivolts peak-to-peak. With its 25 GS/s sample rate on four channels, the instrument delivers 16-bit resolution at 200 MHz when using the High Res mode. This means that not only can you see the interfering signals on their power rail, but you'll measure them with a level of accuracy, that until now has not been possible on a scope.
FlexChannel® technology enables maximum flexibility and broader system visibility
The 6 Series MSO redefines what a Mixed Signal Oscilloscope (MSO) should be. FlexChannel technology enables each of the inputs on the instrument to be used as a single analog channel or eight digital channels. The conversion is done by simply attaching a TLP058 logic probe to any input. Imagine the flexibility and configurability this provides. You can change the configuration at any time by simply adding or removing TLP058 logic probes, so you always have the right number of digital channels. You can connect as many TLP058 probes as you like, enabling up to a maximum of 32 digital channels.
Unprecedented signal viewing capability
The stunning 15.6" (396 mm) display in the 6 Series MSO is the largest display in the industry. It is also the highest resolution display, with full HD resolution (1,920 x 1,080), enabling you to see many signals at once with ample room for critical readouts and analysis. The viewing area is optimized to ensure that the maximum vertical space is available for waveforms. And it employs the touch interactions that you use with phones and tablets, and expect in a touch enabled device:
Drag waveforms left/right or up/down to adjust horizontal and vertical position or to pan a zoomed view
Pinch and expand to change scale or zoom in/out in either horizontal or vertical directions
Drag items to the trash can to delete them
Swipe in from the right to reveal the Results Bar or down from the top to access the menus in the upper left corner of the display
Digital Voltmeter (DVM) and Trigger Frequency Counter
The 6 Series MSO contains an integrated 4-digit digital voltmeter (DVM) and 8-digit trigger frequency counter. Any of the analog inputs can be a source for the voltmeter, using the same probes that are already attached for general oscilloscope usage. The counter provides a very precise readout of the frequency of the trigger event on which you're triggering. Both the DVM and trigger frequency counter are available for free and are activated when you register your product.
New high-performance probe options
For easier connection to fast signals, Tektronix offers a series of high-performance probes that are well-suited to the performance levels of the 6 Series MSO. The TDP7700 is a series of TriMode™ probes with bandwidths of 4, 6 or 8 GHz. TriMode probes enables you to make the single-ended, differential, and common mode signal measurements required for high-speed bus analysis, without moving or changing probes. These probes use the TekFlex™ connector technology which places active buffers at the probe tip for the best signal fidelity while limiting mechanical stress on tiny test points and supports a variety of connectivity methods to the device under test including solder-in tips, direct connection and handheld browsing. Additionally, the TAP4000 and TDP4000 probes extend the range of Tektronix' popular active, single-ended and differential probes, respectively, and now support up to 4 GHz bandwidth.
Windows or not — you choose
The 6 Series MSO offers you the choice of whether to include a Microsoft Windows™ operating system. Opening an access panel on the bottom of the instrument reveals a connection for a solid state drive (SSD). When the SSD is not present, the instrument boots as a dedicated scope with no ability to run or install other programs.
Help when you need it
The 6 Series MSO includes several helpful resources so you can get your questions answered rapidly without having to find a manual or go to a website:
Graphical images and explanatory text are used in numerous menus to provide quick feature overviews
All menus include a question mark icon in the upper right that takes you directly to the portion of the integrated help system that applies to that menu
A short user interface tutorial is included in the Help menu for new users to come up to speed on the instrument in a matter of a few minutes
Included with Tektronix MSO64: Four (4) TPP1000 1 GHz, low-C passive probes w/ one-year warranty, mouse, power cord and front cover with attached accessory pouch, printed Installation Manual covers safety and basic operation, comprehensive integrated online help and certificate of traceability.