Hioki PW6001 Power Analyzer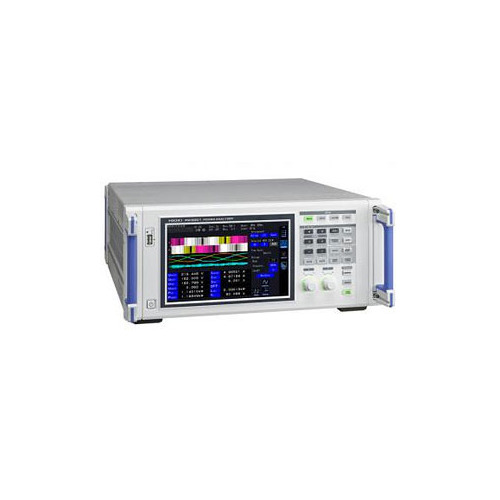 Drill Down Description:

Power Analyzer

Model:

PW6001

Web Meta Description:

The PW6001 delivers world-class measurement accuracy and a broad-range of measurement frequencies.

Quote Required:

No

Condition:

New
PW6001-16
High Precision Power Analyzer for Motor and Inverter Efficiency Analysis
0.02% power measurement accuracy
High noise resistance and stability
Combined accuracy of ±0.07% rdg. with current sensor
Special triggers can enable waveform and motor analysis
18-bit A/D conversion
DC, 0.1 Hz to 2 MHz frequency bandwidth
Wideband harmonic analysis up to the 100th order with a 1.5 MHz band
CMRR performance of 80 dB/100 kHz
Broad frequency band and sampling
Max. 6 channels per analyzer, and 12 ch. with synchronization (w/ L6000 optical cable)
Delivering high accuracy, a broad range of measurement frequencies, and a high level of measurement stability
The PW6001 is Hioki's flagship power analyzer, featuring high accuracy, wide band, and high stability for measuring electrical power from DC to inverter frequencies, providing maximum of 12 channels to support single- and three-phase inverter motor system measurements and next generation devices such as silicon-carbide (SiC) inverters.
TrueHD 18-bit converter measures widely fluctuating loads with extreme accuracy
A built-in 18-bit A/D converter provides a broad dynamic range. Even loads with large fluctuations can be shown accurately down to tiny power levels without switching the range. Further, a digital LPF is used to remove unnecessary high-frequency noise, for accurate power analysis.
Fast, simultaneous calculation functions achieved with Power Analysis Engine II
All measurements, including period detection, wideband power analysis, harmonic analysis, and waveform analysis, are digitally processed independently and with no effect on each other. Fast calculation processing is used to achieve a data update speed of 10 ms while maintaining maximum accuracy.
Ordering information Please select the appropriate model number to specify the number of factory-installed built-in channels and inclusion of Motor Analysis and D/A output when ordering. These options cannot be changed or added at a later date.
Applications: EV/HEV motor analysis and solar and wind power conditioner conversion efficiency measurements.
Included: Instruction manual, power cord and D-sub 25-pin connector (PW6001-11 to -16 only).