Hioki DT4256 Digital Multimeter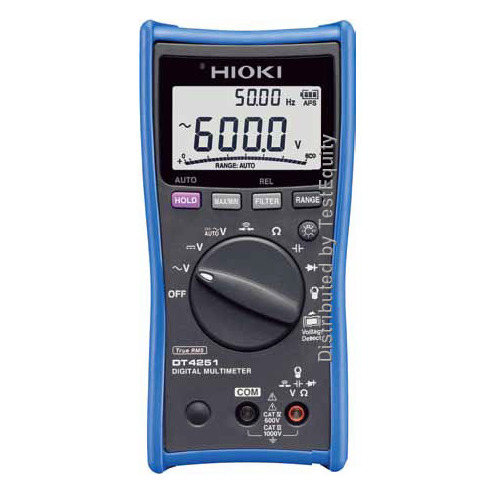 Model:

DT4256

Web Meta Description:

Find the product you need with our Hioki DT4256 Digital Multimeter. We proudly offer best-in-class customer service and will help you find the solutions you need for your business.

Quote Required:

No

Condition:

New

Accessories Sort Priority:

0

Multiple Sale Qty:

1

UNSPSC:

4111000000
6000-Count display
Easy operation for speedy measurement
Display of multiple measurement parameters
Different models for different applications

DT4251: Replaced with DT4255
DT4252: High-precision DC voltage and 10A AC/DC measurements; offering a range of measurement capabilities
DT4253: Make temperature, DC current (mA/μA). Ideal for HVAC

CATIV 600V design for maximum safety
Three-year warranty
DT4251: Measure current with clamp sensors - no exposed current terminals ensure safety. Ideal for when measurement safety is the top priority.
No 'A' terminal
Includes clamp sensor connection terminals* and voltage detector
DT4252: High precision 600mV DC range and wide array of measurement features for all applications. Great for those who require a range of measurement capabilities.
High precision 600mV range
6A and 10A ranges
DT4253: Temperature, DC mA & μA ranges for instrumentation and HVAC. Ideal for users responsible for maintaining instrumentation, heating, ventilation, or air conditioning equipment.
60μA to 60mA range
Includes temperature measurement
DT4254: voltage-only model that addresses the cause of short-circuits at the root by intentionally removing the current measurement terminals
600.0 mV to 1500 VDC
6.000 V to 1000 VAC
DT4255: Clamp-based current measurement to eliminate contact with energized parts
600.0 mV to 1000 VDC
10.00 A to 1000 A Clamp
DT4256: voltage, current, resistance, capacitance, frequency, continuity check, and diode test functionality
600.0 mV to 1000 VDC
10.00 A to 1000 A Clamp
DT4252
DT4253
DT4254
DT4255
DT4256
TRMS
Yes
Yes
Yes
Yes
Yes
DCV basic accuracy
±0.3 %rdg. ±5 dgt.
±0.3 %rdg. ±3 dgt.
DC voltage
600mV to 1000V
600mV to 1500V
600mV to 1000V
DCA current
6A to 10A
60μA to 60mA

N/A

N/A
60.00 mA to 10.00 A
ACA current
6A to 10A
N/A
N/A
N/A
600.0 mA to 10.00 A
AC clamp*
N/A
10A to 1000A
N/A
10.00 A to 1000 A
10.00 A to 1000 A
Resistance
600Ω to 60MΩ
N/A
600Ω to 60MΩ
Temperature
N/A
-40°C to 400°C

N/A

Capacitance
1μF to 10mF
N/A
1μF to 10mF
Frequency
99Hz to 99kHz
Please refer to Data Sheet for complete specifications.

* Optional 9010-50, 9018-50, or 9132-50 Clamp Probes are recommended.
Includes: L9207-10 Test lead, Instruction Manual, four (4) LR03 Alkaline batteries, and Holster (attached to the instrument, with a test lead holder.).