Instek PLR 36-20 Low Noise 720 Watt DC Power Supply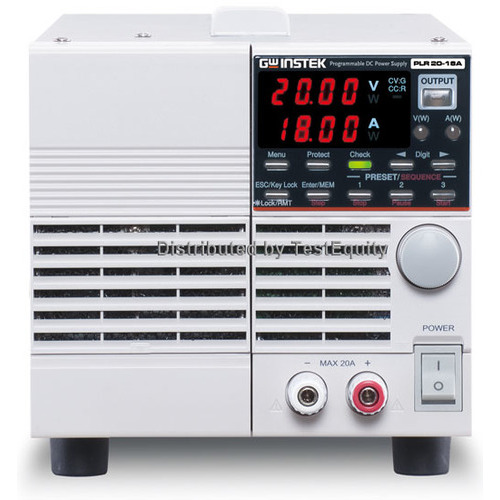 Condition:

New

Drill Down Description:

Low Noise 720 Watt DC Power Supply

Model:

PLR 36-20

Product Code:

Instek

Quote Required:

No

Web Meta Description:

The 720 Watt Instek PLR 36-20 power supply is a hybrid circuit design which incorporates front stage switching and rear stage linear architectures.

S3 Part Number:

26425.1
Output Rating: 0 to 36 V, 0 to 20 A, 720 W
Low Ripple and Noise (0.5mVrms/ 10mArms)
Fast transition recovery time (100?s)
Maximum 2 units in series connections or 3 units in parallel connections
Select the setting digits for voltage and current (coarse/ fine volume control)
Panel Lock Function
3 set of preset function
Output off timer function (Range: 1 min to 1000 hours & 59 mins)
CC priority function(prevent overshoot & inrush current)
Sequence function of PC editing (Max: 1000 steps/ Min. step period: 50ms)
Protection: OVP, UVP, OCP, remote sensing (Terminal open)
External Analog Control Function
PC Remote Interface: RS-232 Standard; GPIB, USB, LAN Optional
CE Compliance
Two-year warranty
Light, Compact, Low-ripple and Noise
The 720 Watt PLR 36-20 power supply is a hybrid circuit design which incorporates front stage switching and rear stage linear architectures. The unique advantages of this design benefit from the combination of both switching and linear structures. The front stage switching structure can effectively reduce size and weight, and the rear stage linear structure can maintain lower ripple voltage, lower ripple current, and faster transient response.
PLR Series Programmable DC Power Supply Features
The PLR 36-20 has many built-in features, including three sets of user-defined Preset function; programmable automatic Output off timer function; programmable Sequence function; CV, CC priority activation functions (prevent overshoot and inrush current while output is turned on); External voltage and current output control and OVP, OCP and UVP functions.
The PLR 36-20 is equipped with RS-232 interface and also provides optional GPIB & USB (PLR-GU) and USB & LAN (PLR-LU). Remote control of maximum 32 units can be realized by Local Bus no matter which interface is utilized. Additionally, the PLR-ARC interface not only provides external voltage and external resistance control but also meets the requirement of PLC control.
Additional current can be obtained by connecting a maximum of three PLR 36-20 supplies in parallel; or two units in series to effectively double the voltage output.
| | |
| --- | --- |
| | |
| Series Connection Diagram | Parallel Connection Diagram |
| Voltage/Current Allocation | Volts | Amps |
| --- | --- | --- |
| Single Unit | 36 V | 20 A |
| Two PLR 36-20 units in series | 72 V | 20 A |
| Two PLR 36-20 units in parallel | 36 V | 40 A |
| Three PLR 36-20 units in parallel | 36 V | 60 A |
To increase overall output power, the PLR-Series supports same model units to be arranged in series operation for the maximum two units or in parallel operation for maximum three units. Please refer to Data Sheet for complete specifications.
Applications: The PLR 36-20 is suitable for the power supply applications on D.C. power supply modules, electronic parts and components, and wafer plating equipment.
Included with PLR 36-20: user's manual on CD, AC power cord, rear output terminal cover, bolt set [two hexagon head bolts (P-3), two flat washers, two hexagon nuts and one output-grounding cable.
Instek PLR-series programmable switching D.C. power supplies
| | | | | | | |
| --- | --- | --- | --- | --- | --- | --- |
| | PLR 20-18 | PLR 20-36 | PLR 36-10 | PLR 36-20 | PLR 60-6 | PLR 60-12 |
| Output Voltage | 0 - 20 V | 0 - 20 V | 0 - 36 V | 0 - 36 V | 0 - 60 V | 0 - 60 V |
| Output Current | 0 - 18 A | 0 - 36 A | 0 - 10 A | 0 - 2 0A | 0 - 6 A | 0 - 12 A |
| Output Power | 360 W | 720 W | 360 W | 720 W | 360 W | 720 W |